10 Educational Apps For Preschoolers & Kindergartners
vooks.com
Recommended by teachers, child therapists, and homeschooling mamas.
And just like that, we're all homeschoolers. While I deeply appreciate educators and homeschooling parents who spent their weekend compiling resources for the rest of us, the extensive lists appearing in my email and Facebook feed are overwhelming. Sorting through alphabitized lists of apps is more than most of us have patience for right now. To make things easier, I reached out to teachers, therapists, and homeschoolers I know to help me narrow down the list. Below are their ten recommendations, plus one extra for music-loving kiddos like mine.
Homeschooler and former teacher Christie Megill offers this encouragement to parents who are feeling daunted: "This is an overwhelming and complicated time for everyone. Don't add to the stress by putting unrealistic expectations on yourself or on your family. Try and accomplish the basic tasks of your normal day-to-day, and consider everything else a bonus. Let the kids read for as long as they want, let them get bored, let them spend more time finding their own interests, let them help more around the house. They'll be okay, and you will be, too."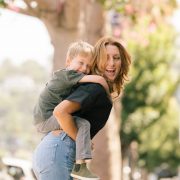 Jessica Butler
Jessica Butler is the co-founder of Raise, stepmother of two, and adoptive mother of one. Prior to Raise, she was a writer on USA's "In Plain Sight" and TNT's "The Last Ship." She and her husband, writer/producer Warren Bell, co-created the Nick at Nite series "Instant Mom," based on her life as a stepmother. She lives in Los Angeles with her husband and six-year-old son, Levon.