You see a STEAM toy, I see another homework assignment.
My kid is spoiled. With three sets of grandparents and a village full of unofficial aunts and uncles, I've accepted that I cannot control the amount (or size) of the gifts he receives. One Christmas, I bought him a table top hockey game. The next evening, my mother replaced it with an actual air hockey table. This is what I'm dealing with.
But 2020 is an unprecedented year, and so are my gift-giving rules. We've been quarantined and distance learning since March, and I'm hanging on by a thread. In an effort to avoid a nervous breakdown on Christmas morning, I've established this sanity saving gift guide for grandparents and friends to follow:
DON'T BUY MY KID ANYTHING I HAVE TO FEED, BUILD, MAKE OR PLAY
If it eats and doesn't grow up to take care of me in my old age, don't bring it into this house. Don't tell me it's just a hermit crab and that I don't have to do anything but add water to two separate bowls every two days after I mix in the proper conditioners because tap water will kill it and here's a gift certificate for the tank heater you forgot to buy– DON'T BRING IT INTO THIS HOUSE.
And just because it's an educational toy doesn't mean the rules don't apply. A two player game? It better come with a sibling. A STEAM toy? Are you bringing more homework into this house for me to do? Make your own slime? Are you fucking kidding me?
CHARGE IT BEFORE YOU WRAP IT
If you buy something that needs to be charged, open it and charge it before you wrap it. Have you ever witnessed a six-year-open a toy he's excited to play with only to realize that it needs to charge for 18 hours? Obviously not, or we wouldn't be having this conversation.
Do not assume it comes with batteries or that I have batteries or that we will not possibly need more batteries. It doesn't, I don't, and we will.
Share your rules for pandemic presents in the comments!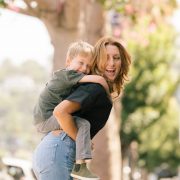 Jessica Butler
Jessica Butler is the co-founder of Raise, stepmother of two, and adoptive mother of one. Prior to Raise, she was a writer on USA's "In Plain Sight" and TNT's "The Last Ship." She and her husband, writer/producer Warren Bell, co-created the Nick at Nite series "Instant Mom," based on her life as a stepmother. She lives in Los Angeles with her husband and six-year-old son, Levon.