Because my fear of COVID is nothing compared to my fear of another month of "Power Rangers" marathons.
Friends are often surprised to learn that we only have one TV in our home. We also have several  iPads and laptops between us, but we've always approached TV watching as a family affair. I'll admit, it's more difficult with our 5-year-old, Levon, than it ever was with our older boys, who were 8 and 12 when we married and have always been sophisticated viewers. To Levon's credit, he often chooses Indiana Jones or Dark Knight Rises over cartoons, but we tolerate a fair share of Power Rangers as well. Luckily, I have an extraordinary ability to ignore the TV, even when I'm staring at it. Just recently I realized that the PJ Masks are not a cast of cats.
Speaking of which, Tiger King is fantastic, but not exactly family viewing for the 5 and under set. Stuck in quarantine with my 30 year-old sister, my 21 year-old stepson, and my 5 year-old, we're on the search for something to watch during family movie nights. (And days. So many days that last so many hours.) Classic series like Harry Potter, Star Wars, and Pirates of the Caribbean are obvious favorites, but by April 47th, we're all going to need to dig a little bit deeper, so I reached out to the families I know who have siblings far apart in age for suggestions. Below are 25 movies and TV shows recommended by moms and teens with younger siblings that promise to entertain your whole crew.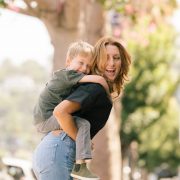 Jessica Butler
Jessica Butler is the co-founder of Raise, stepmother of two, and adoptive mother of one. Prior to Raise, she was a writer on USA's "In Plain Sight" and TNT's "The Last Ship." She and her husband, writer/producer Warren Bell, co-created the Nick at Nite series "Instant Mom," based on her life as a stepmother. She lives in Los Angeles with her husband and six-year-old son, Levon.