Elevate your favorite jarred sauce for easy weeknight dinners.
Since Levon started school, we've made an effort to meal prep on Sundays and choose quick, easy recipes for weeknight dinners. Pasta and meat sauce is one of our favorite go-tos. The sauce can be made ahead and frozen or refrigerated, making it even easier the night of. For a lighter version, we swap the bucatini for zucchini or butternut squash "noodles," and we've even made a lunch version of the sauce using ground turkey or chicken instead of beef.
What are you favorite easy weeknight meals? Share in the comments.
BUCATINI WITH MEAT SAUCE
Elevate your favorite jarred sauce for easy weeknight dinners.
Ingredients
2

tablespoon

of olive oil

4

ounces

of pancetta

1

yellow onion,

diced

3

cloves

of garlic,

minced

1

pound

of ground beef

1

jar

of your favorite marinara sauce

1

package

of bucatini

grated parmesan cheese



salt and pepper to taste
Instructions
Season beef with salt and pepper. Set aside.

In a large skillet, heat olive oil over medium heat. Add pancetta and sauté until soft, about 5 minutes.

Add onion and cook, stirring occasionally, until browned.

Add minced garlic and seasoned beef and cook thoroughly, breaking up the meat with a wooden spoon, until no longer pink.

Stir in sauce and reduce to a simmer, cooking over low heat for at least 20 minutes (the longer the better).

Cook pasta according to directions.

Top pasta with meat sauce and parmesan and enjoy!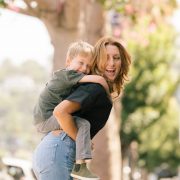 Jessica Butler
Jessica Butler is the co-founder of Raise, stepmother of two, and adoptive mother of one. Prior to Raise, she was a writer on USA's "In Plain Sight" and TNT's "The Last Ship." She and her husband, writer/producer Warren Bell, co-created the Nick at Nite series "Instant Mom," based on her life as a stepmother. She lives in Los Angeles with her husband and six-year-old son, Levon.