Just five ingredients (and you can pronounce all of them).
Organic skincare company Curasalve was created by fellow mama Kelley Williams after her daughter experienced severe diaper rash and traditional ointments offered her no relief. Williams set out to create a cream using non-nano zinc oxide and safe, organic ingredients.
When my daughter, Giuliana experienced extreme food intolerance in 2016, all of the diaper creams I tried either burned her skin or provided no relief. After seeing her in continual pain, I began to read labels and learned many of the brands I trusted were filled with ingredients that either I couldn't pronounce or didn't want to put on my child's skin.
Curasalve is made from just five ingredients: non-nano zinc oxide, beeswax, coconut oil, jojoba oil, and aloe vera. You can learn more about the treatment by visiting Curasalve's FAQs page or viewing their ingredient list here.
Williams recently relaunched her brand after a neighboring house fire destroyed her product line. "I grappled for a long time with whether I should shift all of my energy to making more product or just completely abandon the idea. The fire happened just six months after my initial launch. Plus, I was in my third trimester of pregnancy. Managing a new baby, a move, and a renovation was just too much. The best thing for me was to pause the business and focus on my family and my mental health. I had to give myself that space."
She credits fellow entrepreneurs for encouraging her to relaunch the brand. "I'm inspired by so many women around me. I see how their businesses have grown over the last year, and it motivates me to get back at it. We all start small. You have to keep at it, overcome your challenges, and you will find your community. You will succeed. There are a ton of people that find value in what you do. You just have to keep finding your people and delivering."
Williams points to micro influencers for her brand's successful exposure and rapid growth.
"What helped me a lot was influencer marketing. Especially micro influencers – non-toxic moms with a following of 5K or 10K. Those are the people that genuinely like and understand our product and are willing to speak about it, not as an ad, but as something they use on their own children and love."
Along with the relaunch of her diaper cream, Williams is expanding the brand to offer two more bath and body products by the end of this year.
To purchase Curasalve, visit curasalve.com, and be sure to follow their beautiful feed at @curasalve.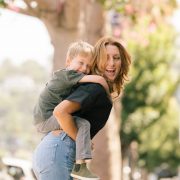 Jessica Butler
Jessica Butler is the co-founder of Raise, stepmother of two, and adoptive mother of one. Prior to Raise, she was a writer on USA's "In Plain Sight" and TNT's "The Last Ship." She and her husband, writer/producer Warren Bell, co-created the Nick at Nite series "Instant Mom," based on her life as a stepmother. She lives in Los Angeles with her husband and six-year-old son, Levon.