That you can actually throw together.
It's no secret that Halloween is my favorite holiday, and I love the fact that there are so many opportunities for kids to dress up. But as a mom of a blended family, there's nothing worse than when your kid announces on Saturday afternoon that they need a costume that night, and that they left their Halloween costume at their other house.
Actually, there is something worse — when they forget to pack their formal suit. I can't help you with that one, but I can help with some easy, last minute Halloween costumes you can throw together using everyday clothing and simple make-up that you likely have in your bag.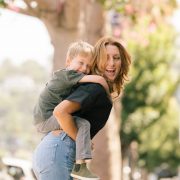 Jessica Butler
Jessica Butler is the co-founder of Raise, stepmother of two, and adoptive mother of one. Prior to Raise, she was a writer on USA's "In Plain Sight" and TNT's "The Last Ship." She and her husband, writer/producer Warren Bell, co-created the Nick at Nite series "Instant Mom," based on her life as a stepmother. She lives in Los Angeles with her husband and six-year-old son, Levon.