Turn your favorite candy into your new favorite cookie.
On a recent trip to the bookstore, Levon ordered a peanut butter cup cookie — think chocolate chip, but with chunks of Reese's cups instead. It was mind-blowing, or maybe I was just PMSing, but either way, it inspired me to use all of our leftover Halloween candy to make cookies. I used this Martha Stewart recipe as the base and simply stirred in various candies in place of chocolate chips. I promise you won't be disappointed.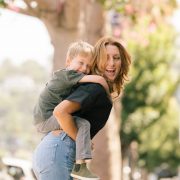 Jessica Butler
Jessica Butler is the co-founder of Raise, stepmother of two, and adoptive mother of one. Prior to Raise, she was a writer on USA's "In Plain Sight" and TNT's "The Last Ship." She and her husband, writer/producer Warren Bell, co-created the Nick at Nite series "Instant Mom," based on her life as a stepmother. She lives in Los Angeles with her husband and six-year-old son, Levon.