c/o Thomishia Booker
Thomishia Booker's children's book series features "happy Black children living their happy Black Lives."
Thomishia Booker is the author of "Brown Boy Joy," creator of the Hey Carter! children's book series, and a mother two. Booker is also a licensed therapist and member of the Black Literary Collective, a group of Black authors in the Bay Area working to decolonize educational spaces. Her book "Brown Boy Joy" has been featured on the Netflix series Bookmarks: Celebrating Black Voices, and in Essence, Popsugar, and more.
Booker was inspired by her son to create the Hey Carter! series after being disappointed by the lack of representation in children's books. Her stories promote self-confidence and pride in Black and Brown children ages three to five, and the brand has expanded to include an online boutique featuring coloring books, art supplies, and apparel for kids. Booker recently chatted with Raise about the importance of representation in literature for all children and her efforts to extend Black history education beyond the trauma of enslavement.
On The Importance Of Representation In Children's Books
I always stress that while I created the Hey Carter! series for Black children, it is for all children because representation teaches empathy. If children can be exposed to the realities and experiences of others, it allows them to understand what other people's lives are like, and that's how empathy is formed. I always say that my books are showing the world happy Black children living their happy Black lives, and that sets a precedent for non-Black children on how to work alongside Black children and give them the respect they deserve. That permeates into classrooms.
On Teaching Black History and American History
I'm a part of the Black Literary Collective, a group of award-winning authors and poets who are focused on ensuring that schools have culturally relevant content, curriculum, and pedagogy. For all the same reasons that representation is important, we make sure that not only Black students, but all students are taught Black history and the truth about American history. We make sure that it extends beyond February and Martin Luther King Day. We train teachers and assist with curriculum, and we make sure it's taught by Black community members. It's important for children to be exposed to positive, informative, intelligent Black people.
On Extending Black History Beyond Trauma
We don't start Black history with enslavement. We go back before that and create ethnic studies for both Black and non-Black students where we highlight the joy of our story, because it's not just about the trauma. Yes, trauma has been experienced and that trauma is part of our American history, but with ethnic studies, we also celebrate the beauty that is within our group.
You can purchase "Brown Boy Joy" and other books from the Hey Carter! series at heycarterbooks.com. To learn more about the Black Literacy Collective, click here.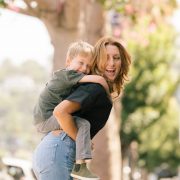 Jessica Butler
Jessica Butler is the co-founder of Raise, stepmother of two, and adoptive mother of one. Prior to Raise, she was a writer on USA's "In Plain Sight" and TNT's "The Last Ship." She and her husband, writer/producer Warren Bell, co-created the Nick at Nite series "Instant Mom," based on her life as a stepmother. She lives in Los Angeles with her husband and six-year-old son, Levon.