At ten months old, my son stopped growing. By age two, he had fallen off the growth chart completely and was diagnosed with failure to thrive – stunted growth resulting from inadequate nutrition.
Failure to thrive is a complex diagnosis, caused by a wide ranch of underlying medical conditions, environmental factors, and more often than not, a combination of both. In Levon's case, his prematurity affected his brain development, central nervous system, and muscle tone, resulting in difficulty eating and gaining weight.
Between ages eight months and two years, Levon gained just 2 pounds and grew only 6 inches. He ranked below the first percentile in weight on the standard growth chart. At nine months old, he began working with an occupational therapist, but despite the intervention, he still struggled to eat enough to grow.
We offered Levon meals and snacks throughout the day, but most of the food went untouched. Then one afternoon, I made Rebecca Minkoff's pumpkin bread, featured in her profile on The Glow. Per usual, I offered Levon a bite, with no expectation that he would eat it.
HE. DEVOURED. IT.
Over time, we found if we offered Levon the pumpkin bread first, the flavors would essentially wake up his mouth and lead to him eating the other foods on his tray.  Levon's occupational therapist Christy Hennessey explains, "Flavorful and spicy foods provide strong sensory input. They increase oral sensory awareness and oral motor responses, which many children need and prefer." The combination of spices in the pumpkin bread – cinnamon, nutmeg, and allspice – essentially activated Levon's mouth, making it easier for him to move the muscles he uses to chew and swallow. Once those muscles were up and running, it was easier for him to eat the rest of his meal.
Levon is now three-and-a-half and thriving. He rivals Starbucks in his pumpkin spice obsession. Every weekend, no matter what the season or unreasonable temperature outside, we bake a batch of muffins. And every morning, he eats them for breakfast.
EVERY. MORNING.
To Ms. Minkoff: Thank you. For your inspiration. For sharing your family recipe. And for making my house smell permanently of pumpkin bread.
REBECCA MINKOFF'S PUMPKIN BREAD
Ingredients
1

cup

pumpkin puree

1 1/2

cups

flour

1

cup

sugar

1

tsp

baking soda

1/2

tsp

salt

1/2

cup

olive oil

1/4

cup

water

2

eggs

beaten

1/2

tsp

cinnamon

1/2

tsp

nutmeg

1/2

tsp

allspice
Instructions
Preheat oven to 350 degrees. Sift together the flour, salt, sugar, and baking soda.


Mix the pumpkin, oil, eggs, water, and spices together, then combine with the dry ingredients, but do not mix too thoroughly.

Pour into a muffin tin with paper liners and bake for 33 minutes.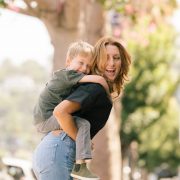 Jessica Butler
Jessica Butler is the co-founder of Raise, stepmother of two, and adoptive mother of one. Prior to Raise, she was a writer on USA's "In Plain Sight" and TNT's "The Last Ship." She and her husband, writer/producer Warren Bell, co-created the Nick at Nite series "Instant Mom," based on her life as a stepmother. She lives in Los Angeles with her husband and six-year-old son, Levon.