Planning a trip? Here's where to stay, hike, eat, & how to get around the park.
Zion National Park is favorite destination of mine, both with or without kids. My husband and I have visited a total of four times, most recently this winter, with our 5 and 7 year-olds in tow.  If you're looking for a National park to visit, I urge you to start with Zion. Below are my best recommendations for where to stay, hike, and eat, along with my favorite way to get around the park.
One of our travel rules is always to find a place with both a hot tub and a pool. Hot tubs are one of the rare, magical activities that kids and parents can equally enjoy. While you won't find luxury stays in the town of Springdale, I highly recommend the Best Western Plus. It has a great pool set-up, clean rooms, a kid-friendly breakfast, and it's less than 1/2 a mile from the park entrance.
Another firm rule of ours is to never rely on a shuttle. When traveling with kids, whether to Zion, Disney World, or a different country, we avoid being at the mercy of a shuttle at all costs. Zion offers a few different ways to reach the trails from the park entrance, and our favorite is by bike. The absolute best way to take in the view of Zion is by flying down the private National Park Road on an e-bike.
Shuttle: The shuttle is known for being efficient and timely, but you know how I feel about shuttles. It is free, making it a budget-friendly option, but expect to add an extra 1-2 hours to your day for transportation. Be warned: There's often a line for the shuttle, and it moves very slowly through the park.
Walk: The park entrance is approximately six miles from the main trailheads. The walk is beautiful but long, especially with kids in tow.
Bike: We've rented e-bikes on all of our trips, and we'll never do it a different way. All-day rentals are definitely costly (and with kids, you'll need a tandem bike or trailer), but biking guarantees you'll get more time inside the park, as well as amazing views as your ride. Plus, it allows you to save your energy for the actual hikes. Our favorite rental location is Zion Adventure Company.
Angel's Landing: This famous trail is known for its terrifying ledge near the top, where hikers have to hold on to chains as they climb the last half-mile. That said, the first two miles are extremely kid-friendly and lead to a gorgeous lookout called Scout's Landing with breathtaking views! The Landing is big and has lots of places to explore, and it serves as the perfect place for you and your partner to take turns watching the kids while each of you climb to the top on your own. With kids, don't plan to do more than this hike in a day.
Emerald Pools: Emerald Pools offers three different hikes and lookout points, all of which are 2.5 miles or less (round trip) and very kid-friendly! The trails are easy with no steep climbs, and even kids can conquer more than one trail on the same day.
The Narrows: Another famous hike in Zion is The Narrows. This hike is known for requiring gear rental because much of it is spent trekking through water. This hike is not recommended for young children because the water is often 3-4 feet deep and the terrain is extremely slick.
I have a tendency to be a bit of a food tourist, booking travel based on where I can get the best food. (I often choose locations based on their proximity to a Din Tai Fung.) While Springdale is not a foodie hub, we have found some favorites that are definitely worth trying.
Zion Pizza & Noodle Co has an amazing 5 cheese pizza, with a crust that's more like puffed pastry and topped with roasted rosemary.
Feel Love Coffee is right at the entrance to the park and offers great artisanal drinks along with several gluten-free and/or dairy-free breakfast pastries. (The lemon cookies are a must, and I may have purchased one every day of our trip.)
Switchback Grille is a steakhouse with a huge wine selection and a great bread trio on the menu. Did I mention a huge wine selection?
Sol Foods is a local grocery store with lots of ready-made options, great snacks, and portable meals. It's the perfect place to load up on lunches to eat inside the park or dinner to eat while relaxing poolside.
 Have you been to Zion with kids? What are your favorite tips and tricks?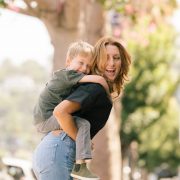 Jessica Butler
Jessica Butler is the co-founder of Raise, stepmother of two, and adoptive mother of one. Prior to Raise, she was a writer on USA's "In Plain Sight" and TNT's "The Last Ship." She and her husband, writer/producer Warren Bell, co-created the Nick at Nite series "Instant Mom," based on her life as a stepmother. She lives in Los Angeles with her husband and six-year-old son, Levon.