GrandAve/Shutterstock
With one word, she elevated the role of stepparents in this country.
Thank you to insider.com and writer Kelly Burch for featuring us in Friday's piece, Stepmoms Say Kamala Harris's Embrace of Her Blended Family On The National Stage Was A Long-awaited Moment.
You can read the article here, and be sure to follow Burch's journey on her Facebook page, as she and her family travel the U.S. (and homeschool!) in an RV during the pandemic.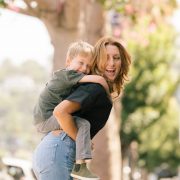 Jessica Butler
Jessica Butler is the co-founder of Raise, stepmother of two, and adoptive mother of one. Prior to Raise, she was a writer on USA's "In Plain Sight" and TNT's "The Last Ship." She and her husband, writer/producer Warren Bell, co-created the Nick at Nite series "Instant Mom," based on her life as a stepmother. She lives in Los Angeles with her husband and six-year-old son, Levon.