Find out our top three favorites.
Vodka tonic (with olives) has been my go-to cocktail since college but six months ago, I developed an allergy to wheat, corn and rye. I've had food allergies my whole life, but they've changed over the years, and I recently began suffering from migraines just hours after drinking vodka or gin. It took me several rounds to realize it was the grain in the liquors causing my headaches. Once I switched to grain-free vodka, my headaches disappeared.
Less than 5% of vodka is made from potatoes but within that small percentage, there are some amazing options. This is by no mean an exhaustive list, as I will continue to experiment, but these are my three favorite I've found so far.
What are you favorite grain-free vodkas? Share your recommendations below.
My Grey Goose replacement. The easiest to find in restaurants.

From the website:

Chopin Potato Vodka is naturally gluten-free and the world's most awarded potato vodka. Its uniquely creamy and full-bodied flavor profile makes it a great standalone vodka, ideal for sipping neat or in martinis and cocktails.

Tasting Notes:Subtle green apple and vanilla nose Creamy and earthy taste Full bodied mouth-feel Long, clean finish, no burn

Chopin Potato carries a bold but well-rounded mouthfeel that will hold up to anything you choose. We suggest limitless options, showcasing it in herbaceous cocktails with basil and rosemary, or sweet veggies and fruits, like tomato, celery, and carrot to find exciting combinations. Highlight bloody marys with its natural umami or ignite the senses with an unforgettable celery spritzer. Of course, straight up in a classic martini is our first choice.

chopinvodka.com
Clean and crisp, perfect for cocktails.

From the website:

America's finest potato vodka can only come from one place—Idaho. The home of the luscious Russet Burbank potato and the birthplace of Blue Ice Vodka. Idaho is where the people behind our brand come from and live, where our natural ingredients are sourced and where our product is crafted. Perfect for cocktails under 100 calories, with only 64 calories per ounce.

Natural Water Source
Vodka is 60% water, and as the snow caps of the Grand Tetons mountains melt, the water trickles into the Snake River Aquifer where it naturally filters through 200 feet of porous, volcanic rock before reaching our 200-foot well.

Four-Column Distillation
Blue Ice Vodka is distilled in a four-column apparatus via fractal distillation. This process allows our Master Distiller to control the removal of impurities at a micro level. This neutral spirit contains no additives, citric acids or glyceride commonly found in most other vodkas.

Five Stage Filtration
After our careful distillation process, Blue Ice Vodka is filtered five times for extreme clarification. Most vodka is filtered only three times. This five-step filtration process includes passage through fine charcoal, filter press, garnet or crystal, travertine and sub-micron to ensure the utmost clarity.

blueicevodka.com/

A sophisticated taste for vodka lovers.

From the website:

With its smooth, creamy, semi-sweet taste and no harsh "bite," Boyd & Blair Potato Vodka completely redefines the expected flavor profile of vodka. Enjoy it neat (yes, neat!), over ice, or in your favorite cocktail.

Rated 5 stars by F. Paul Pacult, Boyd & Blair Potato Vodka has been ranked as the top vodka in the world in the Ultimate Spirits Challenge Top 100 Spirits list.

boydandblair.com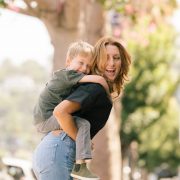 Jessica Butler
Jessica Butler is the co-founder of Raise, stepmother of two, and adoptive mother of one. Prior to Raise, she was a writer on USA's "In Plain Sight" and TNT's "The Last Ship." She and her husband, writer/producer Warren Bell, co-created the Nick at Nite series "Instant Mom," based on her life as a stepmother. She lives in Los Angeles with her husband and six-year-old son, Levon.