To celebrate and support families in the NICU.
"There's a 20% chance he'll never leave the hospital."
Those are the only words I remember the doctor saying the night our son was born. Other numbers and probabilities and procedures were mentioned, warnings of "developmental delays" and "intraventricular hemorrhages" and "cerebral palsy."
I stopped listening in order to keep functioning. But "a 20% chance of never leaving the hospital" was burned into my brain. Needless to say, balloons and flowers were not in order.
My son spent 29 days in the NICU. As an adoptive parent, I admittedly had it easier than most mothers do. I wasn't recovering from childbirth while dealing with the devastation of a sick infant. But regardless of the circumstances, the NICU is a difficult place for anyone to start their journey as a parent. Seven years later, with a healthy child who beat the odds, I'm now able to look back and recognize what I truly needed during that time. In honor of Prematurity Awareness Month, I'm sharing ten thoughtful gifts for NICU parents and babies.
Babies in the NICU are tethered to countless monitors and machines, making it impossible for them to wear clothing. Most babies spend their days in nothing but a swaddle. Preemies have especially sensitive skin, so the softer the fabric, the better. We love Little Muffincakes, Bundled Baby, and Little Unicorn.
The one thing NICU babies can wear are hats. This one is sized for preemies and has an adjustable top knot for a better fit. For slightly bigger babies, 6Heart offers adorable bow wraps and knot wraps.
Hospitals are typically cold, so a cozy sweater or hoodie is always appreciated. I lived in this local Malibu brand when Levon was in the hospital.
Many NICU babies can only be held for two or three hours a day, which leaves parents a lot of time to fill. Books and magazine (and podcasts) are a wonderful way pass the time.
For parents with long hair, scrunchies and hair ties are a must when doing skin to skin with a baby who's attached to multiple cords. It might seems like a small gift, but a pretty set of scrunchies or headbands like these can help a tired and unshowered parent feel more put together.
A tinted lip balm is another small gift that makes a world of difference to a parent wanting to feel "normal" inside a hospital.
I spent a month eating ham sandwiches and chicken quesadillas every day. It was years before I could stand the smell of either food. A gift basket of good snacks is always appreciated.
Speaking of snacks, NICU parents spend all hours of the day sipping bad hospital coffee. A small pack of gum, floss, a travel toothbrush, and a small mouthwash will be loved and used!
The only time I ever left the hospital was when they kicked me out each day during shift change. It's the perfect time to pop out and grab a bite to eat, get some fresh air, and make phone calls. Look for gift cards to nearby restaurants and coffee shops; most NICU parents don't want to be more than a few minutes away from the hospital, but it gives them an excuse to step outside and recharge.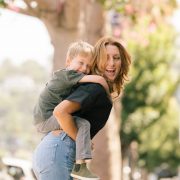 Jessica Butler
Jessica Butler is the co-founder of Raise, stepmother of two, and adoptive mother of one. Prior to Raise, she was a writer on USA's "In Plain Sight" and TNT's "The Last Ship." She and her husband, writer/producer Warren Bell, co-created the Nick at Nite series "Instant Mom," based on her life as a stepmother. She lives in Los Angeles with her husband and six-year-old son, Levon.