Lemon juice and vodka. Key lime and dark rum. Mix and match your favorite citrus juice and liquor with this easy, no fail recipe.
Several years ago, I started gardening and somehow ended up with six lemon trees and one insanely fruitful key lime tree. The citrus starts to ripen after Thanksgiving and by New Years, I have more lemons and limes than I know what to do with. In honor of January, I could jump on the detox train and start juicing or drinking hot water with lemon every day, but no, thank you. We've been stuck at home since March. Eating and drinking is the only experience we have left, and I'm not giving it up.
To keep ourselves entertained, we've been experimenting with new dinner and cocktail recipes, and our latest favorite is one of the easiest and most satisfying drinks I've ever made. The best part — no shaker required. Simply pour equal parts fresh lemon or key lime juice, simple syrup, and your favorite liquor over ice and stir. We alternate rum, gin, and vodka, we're planning on trying grapefruit juice this weekend.
Our favorite liquor of the moment is a dark Tahitian rum that was gifted to us, and we're in a panic because it's almost gone and not available online. I've kindly asked my neighbor to return to Tahiti for more but in the meantime, if you have a favorite dark rum, message me the brand!
A quick note: Don't try to substitute lemonade for the fresh juice and simple syrup. It's not the same. Not even close.
2 oz lemon (or key lime) juice
2 oz simply syrup
2 oz your favorite dark rum, vodka, or gin
The Best Mix and Match Citrus Cocktail
Ingredients
2

oz

lemon

or key lime juice

2

oz

simply syrup

2

oz

your favorite dark rum

vodka, or gin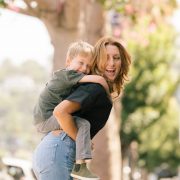 Jessica Butler
Jessica Butler is the co-founder of Raise, stepmother of two, and adoptive mother of one. Prior to Raise, she was a writer on USA's "In Plain Sight" and TNT's "The Last Ship." She and her husband, writer/producer Warren Bell, co-created the Nick at Nite series "Instant Mom," based on her life as a stepmother. She lives in Los Angeles with her husband and six-year-old son, Levon.