While I would change a few details about the day, I have never once regretted eloping.
Long before the pandemic, Warren and I eloped in Central Park. It wasn't a secret or an unexpected event — we simply didn't want a wedding. With Covid derailing so many ceremonies, I thought it might be fun to share my do's and don'ts of eloping with those who are considering it.
My biggest piece of advice is
While I would change a few details about the day, I have never once regretted eloping. It was just as exciting and emotional as I imagine a traditional wedding would have been, and it cost us $37.
DO visit the venue before your wedding day.
Our original plan was to fly to New York, get hitched at the courthouse on Friday, spend our weekend "honeymoon" in the city, and fly back to L.A. on Sunday night. But when we visited the courthouse to register for our marriage license, we were so put off by the location that we changed our plans. It was less like a courtroom and more like a dingy high school classroom with linoleum floors and a medal podium. I wanted simple, but not that simple. We asked our hotel concierge if he had any other recommendations on wedding venues – "and do you happen to know anyone who could officiate?" – and like all good concierges do, he came through for us. His friend, who worked at a nearby hotel, was an ordained minister who performed weddings in Central Park. "He can do Saturday at 4."
Done.
It sounds so impersonal, but he was amazing, and I can't imagine feeling more "connected" to any officiant than we felt on our wedding day.
Since the tone of our wedding was so casual (by design), I felt as though I shouldn't over dress or wear anything that screamed "bride." I also felt silly spending a fortune on a dress for a ceremony that was going to last five minutes and cost less than a round of drinks in the city.
I was wrong.
You don't have to have a formal wedding to wear a fancy dress. This is your moment. Wear what you want. Spend what you want. There are no rules in elopement.
Eloping doesn't require an all or nothing approach. You can pick and choose the wedding elements you want to include. I deeply regret not hiring a photographer to capture our day. You're looking at the one and only photo we have from our "wedding."
Hire the photographer. Wear the big dress. If you've always dreamed of having a 7-tier cake, DO IT! Pass it out to people who are social distancing in the park. You'll never regret doing exactly what you want to do.
DO consider the calendar.
Am I the only one who was bloated and had terrible cramps on my wedding day? It never occurred to me to plan around my PMS symptoms, but it would have been nice for someone to have told me that.
You're welcome.
DON'T let anyone talk you out of it.
Your wedding day is about you and your spouse. Not your mother, not your father, not anyone else but you. I think my parents very much wanted me to have a wedding, or to at least be in attendance when I tied the knot, but that's not what I wanted. I wanted just me and my husband. I had to decide between disappointing others or regretting my wedding day for the rest of my life. Thirteen years later, I'm very glad I chose to get married exactly the way I wanted to.
Did you elope? Share your story in the comments!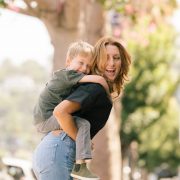 Jessica Butler
Jessica Butler is the co-founder of Raise, stepmother of two, and adoptive mother of one. Prior to Raise, she was a writer on USA's "In Plain Sight" and TNT's "The Last Ship." She and her husband, writer/producer Warren Bell, co-created the Nick at Nite series "Instant Mom," based on her life as a stepmother. She lives in Los Angeles with her husband and six-year-old son, Levon.