Developed for millennial parents to track milestones from birth to 2½ years.
When my son was just 4 months old, we were told he would likely need physical therapy, based on the way he was 'holding' his left arm. Given his prematurity, he would probably need occupational and speech therapies too, but he wouldn't be evaluated for those until he was 9 months old.
Every baby reaches milestones at a different pace, but how are we parents to know the difference between a late bloomer and a developmental delay? Enter Tryde: the new app to help you track and encourage your baby's development and determine if it's time to seek extra help.
Tryde was developed by mother-daughter duo Cheri and Jordan Bolebruch. Cheri is an Early Intervention Evaluator who has spent the last 20 years assessing children for delays in language, gross and fine motor skills, and cognitive development. She holds a PhD in Education, certifications in Special Ed and Deaf Education, and previously headed the deaf infant program at St. Joseph School for the Deaf. Her daughter Jordan is a graduate of Boston College with a background in finance and marketing who previously worked at Facebook. Together, they've created an app to offer expert advice and encouragement to millennial parents.
"Every parent was struggling to find out where their child should be, and they were not getting clear, concise information," Cheri explains. "They were reaching out to sites that I felt were not reliable. We wanted to create an app that would get parents started on the right road and lead them to Early Intervention if necessary, so that they wouldn't wait too long. We hate seeing a 2½ year old who could have been helped sooner."
But the point of the app isn't to cause panic or convince parents that their child needs therapy. On the contrary, it was created in an effort to reassure and empower parents. Jordan explains, "So many sites were upsetting parents and causing them to worry unnecessarily. Not every child needs EI, but every child can benefit from our play-based suggestions." Tryde offers age-based toy and activity recommendations that parents can do with babies to help develop skills and reach milestones.
For many of us, mommy groups and playdates provide a natural way for parents to track development and learn new ways to play with their baby. With our social calendars cleared for the foreseeable future, the launch of Tryde couldn't have come at a better time. It's like having a team of therapists at your fingertips. Jordan agrees, "We developed the app to do what my mother does on a daily basis – evaluate children and empower parents to be at center of their child's development."
Tracks Milestones From Birth To 2 ½
Tryde offers monthly assessments with questions like "Does your baby lift his head for a short period of time when he's on his stomach?" You can answer Always, Trying, or Not Yet, and  based on your answer, Tryde will recommend toys or activities that will help your child master the skill. Plus, the app allows you to "Ask Tryde," which sends your question directly to the founder, Cheri.
Perfect For Non-Traditional Families
Many sites that track infant development begin by tracking pregnancy, but as an adoptive mom, I wasn't privy to those sites. When it came time to track Levon's milestones, I didn't know where to start. For families built through adoption, foster care, and surrogacy, it's refreshing to have an app that doesn't feel as though it's aimed predominantly at biological mothers. Tryde was developed for both parents and caregivers, and even allows you to share your monthly summary with your child's pediatrician.
Helps You Find The Best Toys For Your Baby
I was so overwhelmed by the aisles of baby toys. Wood versus plastic versus lights and sound. How was I supposed to know what Levon would like? It wasn't until I experienced Early Intervention therapies that I truly learned how to play with my child in a way that encouraged his developmental progress, and discovered what toys were best for helping him reach those goals.
Levon's team of therapists constantly provided me with toy and game suggestions, so every Christmas and birthday, I would curate lists with complete confidence that he would actually play with the gifts he was given. Tryde offers the same expert advice and prevents you from buying toys that your child will likely outgrow soon after purchase.
You can download the Tryde app at trydeapp.com or learn more on Instagram at @trydeapp.
What tools do you use to track your baby's development? Share with us in the comments.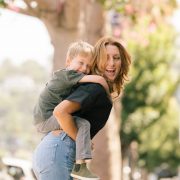 Jessica Butler
Jessica Butler is the co-founder of Raise, stepmother of two, and adoptive mother of one. Prior to Raise, she was a writer on USA's "In Plain Sight" and TNT's "The Last Ship." She and her husband, writer/producer Warren Bell, co-created the Nick at Nite series "Instant Mom," based on her life as a stepmother. She lives in Los Angeles with her husband and six-year-old son, Levon.