shutterstock/file404
"I missed you so much last week." It was meant to be a sweet comment, but he heard something different.
When my stepson was in elementary school, we had a ritual of sharing one negative thing and one positive thing about our days. He'd climb into the car after school and immediately launch into hilarious stories about lunch time and recess and every class in-between. Our custody schedule was week on/week off, and I eagerly anticipated his Monday returns to us.
One afternoon, after laughing at his daily stories, I said, "I missed you so much last week." It was meant to be a sweet comment, but he heard something different.
"I hate when you say that to me.""Why?"
"Because I feel bad that you miss me. Mom says she misses me when I'm with you. I feel bad wherever I am."
Oof. Parenting is brutal, isn't it? My first instinct was to never again acknowledge his absence in an effort to spare him from future trauma. But then a friend of mine, whose parents divorced when she was a teen, dropped this on me:
"I had the exact same discussion with my mom. Except I was upset because she never told me that she missed me when I came home from my Dad's, so I assumed she was happy to be without me, and that really hurt my feelings."
At this point, I just wanted to go bed and wake up when everyone was grown and out of therapy. How was I supposed to let my stepson know that I missed him without saying those words or any others that would make him feel guilty about his time away from us?
There's no magic phrase to solve this situation, but I found that with younger ones, replacing the phrase "I missed you" with something positive and present tense is best. "I'm so happy to see you." Or "I did an amazing thing last week that I think you'll love, and I want to do it with you this week." That sort of thing.
I also started to ask him about his week with his mom. "Did you have fun at your Mom's? We tried a new restaurant this week, and I think you and your mom would love it. You guys should go next week!"
I'm definitely not trying to sell our co-parenting relationship as ideal or perfect. We had ups and downs and blowouts just like everyone else, but we always made an effort to keep the drama between the adults. And we NEVER tried to make our kids feel a preference for one house over the other.
My kid-friendly phrases are definitely just that — for kids. If you have older children, a more honest discussion may be appropriate. Something like "Of course I miss you when you're at your other house, but that's just because I love being with you. It doesn't mean that I don't want you to enjoy your time there. Please don't ever feel bad for being away."
Celebrity blogger Eva Amurri recently shared a post about her co-parenting relationship with her ex, and I highly recommend giving it a read. You can never have too many co-parenting tips!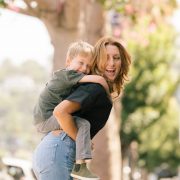 Jessica Butler
Jessica Butler is the co-founder of Raise, stepmother of two, and adoptive mother of one. Prior to Raise, she was a writer on USA's "In Plain Sight" and TNT's "The Last Ship." She and her husband, writer/producer Warren Bell, co-created the Nick at Nite series "Instant Mom," based on her life as a stepmother. She lives in Los Angeles with her husband and six-year-old son, Levon.