worryproofmd.com
Dr. Cara Natterson's monthly newsletter offers practical parenting advice on Covid and beyond.
Parenting through a pandemic is hard enough without the onslaught of fake news. Living in a country with polarizing views on the virus, it's become overwhelming to sort through the conflicting reports and evidence to try and understand how worried we should really be. Wouldn't it be lovely to have someone we trust sort through the madness and point us in the right direction?
Now we do.
Dr. Cara Natterson is a pediatrician, New York Times bestselling author, and mama of two who curates the monthly parenting newsletter, Worry Proof. (The newsletter is being distributed weekly during the Covid-19 pandemic.) I first met Dr. Natterson when she served as a consultant on a medical pilot I wrote. Between her notes on my script, her incredible parenting books, and her email newsletter, I've been taking her advice ever since.
Dr. Natterson launched Worry Proof  in 2010 in an effort to help parents worry less, or at least worry about the right things. Her posts cover everything from vaping to screen time to teen weight loss, and spotlight charities and organizations that are bettering the world for children. Since the outbreak of coronavirus, her emails have provided her thoughts on the latest news, links to the evidence and articles she trusts, and links to the non-Covid news we should all be paying attention to as parents. It's like having a bestie who happens to be a doctor call and tell you how to make sense of it all. And once this pandemic is over, I'll be devouring her advice on raising exceptional boys. 
What resources do you trust for updates on Covid & kids? Whether it's right or left, mainstream or alternative, we'd love for you to share your favorite source with our community of mamas. Leave us a comment below!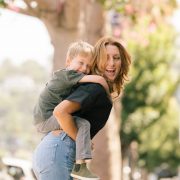 Jessica Butler
Jessica Butler is the co-founder of Raise, stepmother of two, and adoptive mother of one. Prior to Raise, she was a writer on USA's "In Plain Sight" and TNT's "The Last Ship." She and her husband, writer/producer Warren Bell, co-created the Nick at Nite series "Instant Mom," based on her life as a stepmother. She lives in Los Angeles with her husband and six-year-old son, Levon.