The. Best. Cookies. Ever.
Half banana bread, half chocolate chip cookie, complete perfection.
Martha Stewart's Cookies has been a favorite of mine for years. Her Soft and Chewy Chocolate Chip recipe has been our family's go-to since the boys were little, but I recently branched out and started baking her Banana-Walnut Chocolate Chunk Cookies. They are absolutely THE BEST COOKIES I've even eaten. I use pecans instead of walnuts and chocolate chips instead of chunks, simply because I always seem to have them on hand. And the more rotten your bananas are, the better. If you're looking for the perfect dessert for Easter brunch, look no further.
Do you have a favorite cookie recipe? Leave us a link below!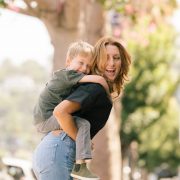 Jessica Butler
Jessica Butler is the co-founder of Raise, stepmother of two, and adoptive mother of one. Prior to Raise, she was a writer on USA's "In Plain Sight" and TNT's "The Last Ship." She and her husband, writer/producer Warren Bell, co-created the Nick at Nite series "Instant Mom," based on her life as a stepmother. She lives in Los Angeles with her husband and six-year-old son, Levon.