Brastock/Shutterstock
Forget the cookies. In Australia, kids leave out cold beer and cake for Santa.
If 2020 has taught us anything, it's the importance of educating our children about the cultures and experiences of others. A wonderful way to introduce kids to different cultures is through holiday traditions. In our home, we celebrate Christmas, but Levon's teacher devotes just as much time to books and crafts that honor Hanukkah, and he's been fascinated to learn about the holiday that so many of his friends celebrate.
Zabina Bhasin, a physician, mom of two, and founder of In Kidz, a lifestyle brand dedicated to empowering children with cultural awareness, is sharing her guide to holiday celebrations around the world below. May it inspire your children to leave a little Brandy for Santa this year.
Holiday Celebrations Around The World
In Japan, they don't have Santa Claus; instead, they have Hoteiosho, an old man who carries a big sack and has eyes in the back of his head. That's why children have to behave when Hoteiosho is around! Christmas presents are exchanged between lovers and close friends.
In South Korea, Christmas lights and decorations cover the capital in Seoul and stores put up large light displays. Children visit Santa Haraboji (or Grandfather Santa), who traditionally wears blue instead of red. Families attend Mass or other services on both Christmas Eve and Christmas Day, and caroling parties are common for children. A traditional treat to serve is a Christmas cake —sponge cake with cream and fruits.
In India, Christmas is a small celebration known as 20th Century Modern Festival. In Goa, instead of Christmas trees, children decorate banana and mango trees. People go caroling in their neighborhoods and on Christmas Eve, Christians in Goa hang paper lanterns in the shape of stars between their homes. The stars float above you as you walk down the road.
In Israel, they celebrate Hanukkah (Chanukah), the Jewish festival of lights. One of the traditions is lighting the Menorah, which holds nine candles, lit from left to right. The Menorah is often placed in the front window of a home so passersby can view the lights and remember Hanukkah's story.
In the Netherlands, festivities begin with parades in nearly every city. Santa Claus is known as  Sinterklaas and arrives by carriage, boat, horse, or even helicopter. Sinterklaas then travels to hospitals, schools, and homes to give gifts to children, who frequently leave out carrots or hay for his horse.
In Italy, they celebrate on December 6th with St. Nicholas Day. The holiday celebrates St. Nicholas of Myra, who worked as a Bishop (and serves as the inspiration for Santa Claus and Father Christmas). St. Nicholas is known for his compassion for children and those in need. On the eve of St. Nicholas' Day, children leave a shoe or a boot in front of the fireplace or the front door for St. Nicholas to fill with gifts. In America, Santa Claus leaves coal for naughty children, but in Italy, Saint Nicholas leaves a stick.
In England, children leave out mince pies and brandy for Father Christmas when he visits. Father Christmas is similar to Santa Claus, but we leave out milk and cookies, and carrots for his reindeer.
The night of Christmas Eve in France, families have a special meal to celebrate the very beginning of Christmas Day. This dinner is called le réveillon de Noël. Instead of stockings, French children leave their shoes in front of the fireplace or around the Christmas tree.
In South Africa, the majority of countries are entering their summer season. Most of the population cannot afford a luxury lifestyle, yet gifting remains common. Traditional gifts include school books, soap, cloth, candles, and other practical goods. On Christmas afternoon, people visit family and friends and often travel the countryside to play games or swim. Santa Claus is also known as Sinterklaas (St Nicholas) & Kersvader (Father Christmas) for people who speak Afrikaans.
In Kenya, Christmas time is spent with families. Many people travel from the city back to their villages and try to be home by Christmas Eve. Santa doesn't ride on reindeer in Kenya, but rather comes by Land-Rover, Camel, or bike!
Australia is another country that celebrates Christmas during their summer season. Tradition says that when Santa arrives, he gives his reindeer a rest and puts the local kangaroos to work. He also changes into summer clothes and sunglasses, and children leave him a snack of cake and cold beer.
In tropical Jamaica, a Grand Market happens on Christmas Eve. The Market starts at 6 pm and lasts until morning, and everyone attends in their new and best clothes. Following the Market, some go to Mass, and others go to all night parties. Jamaican red wine and fruit cake is traditionally served.
What unique traditions do you celebrate with your family? Share with us in the comments below.
Zabina Bhasin
Zabina Bhasin is a physician, mom of two, and founder of In Kidz -- a lifestyle brand dedicated to empowering children with cultural awareness. You can find her at inkidzco.com.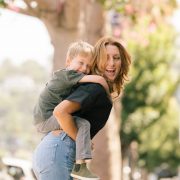 Jessica Butler
Jessica Butler is the co-founder of Raise, stepmother of two, and adoptive mother of one. Prior to Raise, she was a writer on USA's "In Plain Sight" and TNT's "The Last Ship." She and her husband, writer/producer Warren Bell, co-created the Nick at Nite series "Instant Mom," based on her life as a stepmother. She lives in Los Angeles with her husband and six-year-old son, Levon.