As a step parent, you spend so much time participating in already established traditions that it's tempting to want to drag your spouse and stepchildren into YOUR traditions, but that's rarely a good idea.
Establishing new traditions can be challenging for any family, but especially for blended ones. If you're a step parent like me, there's a good chance your new family already has traditions in place – ones that the kids are holding onto dearly since their parents' divorce.
After 14 years, my husband and I have our own traditions for each holiday, but it didn't start out that way. For the first couple of years we were together, we celebrated Halloween, Thanksgiving, and the boys' birthdays with my husband's ex-wife. The boys celebrated Hanukah with her and we celebrated Christmas without them.
We made the decision to keep their established traditions intact when they were young, and while I believe that was a healthy choice, I also believe it's healthy AND VITAL for the new family unit to build traditions as well. Otherwise, the step parent may start to feel like they're merely stepping into someone else's life instead of forming their own.
Below are my tips on creating holiday traditions with your newly blended family.
Elevate The Overlooked Holidays
In our house, Independence Day and Easter are just as important as the traditional holiday season.
When the boys were young, we spent July 4th in my hometown of Stilwell, Kansas at its annual main street parade, where local families and business build floats atop flat-bed trailers and throw candy to kids who run alongside the street. The evening culminates with the entire town gathered in a field to watch a fireworks display. It's all very Wonder Years in the best possible way.
When we got married, there was no July 4th celebration in place, so it was easy to integrate my own childhood tradition into the lives of our boys. Each year we built a float, and each year it became more elaborate. The boys started to bring friends. My dad started to mow a baseball diamond in his backyard to create their own field of dreams. When my youngest stepson was in high school, he and his friends started traveling to Kansas without us. Three teenage boys would crash my parents' house for several days, eat all of their food, and remind them of how lucky they were to have had sweet-smelling girls.
In recent years, we've transitioned to spending July 4th in L.A., but we still make the most of the day, hosting neighborhood parties that last well into the night. It's one of my favorite holidays of the year.
Ironically, so is Easter, despite the fact that my stepsons are Jewish and repulsed by ham. I was raised Baptist, so Easter was always an event in my house, and while I no longer attend church, it felt sad to me as an adult to just ignore the holiday. But how do you celebrate Easter in an inter-faith family?
Plastic eggs.
The boys were far too old to hunt for Easter eggs in the grass, but kids of any age love competition and prizes, and we live on a lake, so…
The tradition started simply — I scattered 50 plastic eggs in the lake and the boys raced in kayaks to collect them. Five of the eggs had stickers hidden inside that were worth money. The hunt was far cheaper than buying Easter baskets and much more exciting.
Over the years, the egg hunt turned into a neighborhood tradition with teams of two on kayaks and paddle boards, racing across the water to collect eggs. Every year, the stakes grew. Other parents put money in the pot. We reached 300 eggs and a complicated color coding system.
Soon the gatherings turned into brunches with egg dyeing for the little ones and quiche and cocktails for the adults. I don't know how many people attended this year, but I know we killed four quiche, a dozen donuts, and several bottles of rose.
As a step parent, you spend so much time participating in already established traditions that it's tempting to want to drag your spouse and stepchildren into YOUR traditions, but that's rarely a good idea. Your step kids don't want to attend a backyard BBQ full of 30-somethings who don't have kids or understand why yours don't want to eat the vegan burgers that are being served.
Start from scratch. Build new traditions. Pick an activity that every member of your family will enjoy. If you're hosting a party, thoughtfully plan the guest list. Consider inviting the families of your children's friends. Ask the kids what they want to do and incorporate their ideas. Indulge them. If they want to "camp" in the backyard, put up the tent and watch movies on the ipad and sleep outside in your own backyard even if it seems silly because it might just develop into the most wonderful tradition of all time.  (Also if you camp in the backyard, make sure you turn off the automatic sprinklers, something my husband failed to do.  Twice.)
Create Separate Traditions For The Years When The Kids Aren't With You During The Holidays
How do you build a holiday tradition when the kids only celebrate with you every other year?
Simple. Build two.
Once the boys were older, we began celebrating Thanksgiving and Halloween separately from their mother. But that didn't mean that we didn't celebrate when they weren't with us. We just celebrated differently. Thanksgiving with the boys meant hosting a picturesque (read: exhausting) homecooked Martha Stewart meal on the lake. On the years we didn't have them – we went out. Just me, my husband, and his mother. We got dressed up and went out mid-day for a truly relaxing lunch. By establishing a separate tradition for each situation, we never felt blue on the years we didn't have the boys. Of course we missed them, but we also had something we genuinely enjoyed to look forward to.
Halloween is my FAVORITE holiday and by the grace of God, I now have a four year old who enjoys it even more than I do. These days, Halloween is a week-long holiday to celebrate both Levon's birthday and the holiday he adores. But prior to him, I was on my own. Due to our custody schedule, the boys were usually with their mother on Halloween, but I still wanted to celebrate. So I turned it into an adult gathering. We made a variety of chilis and cocktails and had an open door policy for all neighbors during trick or treating hours. They could stop by, have a drink, eat some candy, and sometimes watch the World Series.  In fact, I've found that chili and cocktails can make any holiday a blast.
I encourage you to create traditions for yourself and your spouse as a couple, as well as for your kids. The best part about co-parenting is the amount of kid-free time you get to spend with your significant other. Most full-time parents would kill for the opportunity to enjoy a holiday in whatever way they wanted to without having to entertain the kids, so embrace it.
How do you celebrate holidays in your blended family? We'd love to hear!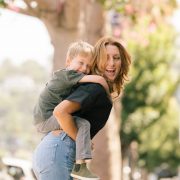 Jessica Butler
Jessica Butler is the co-founder of Raise, stepmother of two, and adoptive mother of one. Prior to Raise, she was a writer on USA's "In Plain Sight" and TNT's "The Last Ship." She and her husband, writer/producer Warren Bell, co-created the Nick at Nite series "Instant Mom," based on her life as a stepmother. She lives in Los Angeles with her husband and six-year-old son, Levon.