Justine Ungaro
We teach our children about race, ethnicity, sexuality, and gender. Why not family structures that differ from their own?
My friend Jennifer* has a daughter who was conceived using a donor egg. The egg belonged to Jennifer's best friend, who has a daughter of her own, and the two little girls refer to themselves as sisters. They don't live together, they don't have the same parents, but within their families, they are considered siblings.
Over the weekend, Levon was playing with Jennifer's daughter, along with another child, when the little girl mentioned her sister. The other child piped up, You don't have a sister.
Yes I do!
Then why doesn't she live with you?
Because she doesn't!
Before I could chime in, Levon shouted, I have a brother and he doesn't live here. He lives in Kansas. He goes to KU. They have a good basketball team. I have two turtles, and I named them Jay and Hawk…
By the time Levon had finished reviewing his six years on earth, the kids had forgotten how the conversation began. But I didn't. It was a preview of the inevitable scene that Levon will face in the future.
Why don't you live with your real parents?
Why didn't your real mom keep you?
Real. The other R word.
My greatest hope is that Raise will inspire parents to teach their children about non-traditional family structures from a young age. It's so easy, and so important to kids from families like mine. The Family Book by Todd Parr is a perfect way to start the conversation with little ones, and below are examples of how to continue the talk as your children age:
Ryan's mom seems so nice. Did you know that Ryan's parents are divorced? That means he has two houses. His mom lives in one and his dad and stepmom live in the other, and Ryan gets to live in both! And he has a sister who lives at his Dad's house, so when he's there, they get to see each other.
Did you know Kayla has two daddies instead of a mommy and a daddy like you? Sometimes kids have two daddies and sometimes they have two mommies, and sometimes they have only one mommy or one daddy. Some babies grow in their mommy's tummy, like you did, but sometimes babies grow inside their tummy mommy. Some kids get to see their tummy mommy like you see Aunt Allie, and some don't. But I think it's so amazing that a person can have a mommy AND a tummy mommy!"
It's SO easy to explain these concepts to kids, and I don't understand why more people aren't doing it. You don't have to be part of a non-traditional family to celebrate them. Talk to your kids. Celebrate differences. Raise the conversation.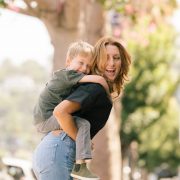 Jessica Butler
Jessica Butler is the co-founder of Raise, stepmother of two, and adoptive mother of one. Prior to Raise, she was a writer on USA's "In Plain Sight" and TNT's "The Last Ship." She and her husband, writer/producer Warren Bell, co-created the Nick at Nite series "Instant Mom," based on her life as a stepmother. She lives in Los Angeles with her husband and six-year-old son, Levon.