The drug-abuse prevention campaign does more harm than good for elementary students.
Last Tuesday, I met with the student council at my son's elementary school to finalize our Red Ribbon spirit week themes.
Monday: Wake Up Drug Free — Pajama Day
Tuesday: Sock It To Drugs — Wear Silly Socks
Wednesday: Team Up Against Drugs — Wear Your Favorite Jersey
You get the idea. For those of you who delete the emails from your school's PTA before opening them [all of you], Red Ribbon Week takes place every October in honor of DEA Agent Enrique Camarena, who was tortured and killed in Mexico in 1985. After his death, friends and neighbors wore red satin ribbons in remembrance and formed a grassroots effort to raise awareness of the "destruction caused by drugs" within their communities. Three years later, the National Family Partnership, formerly the National Federation of Parents for Drug Free Youth, became the official sponsor of Red Ribbon Week, now touted as "the nation's largest and longest-running drug-use prevention campaign." According to its website, "the Red Ribbon serves as a catalyst to mobilize communities to educate youth and encourage participation in drug prevention activities."
Except that it doesn't.
It provides teachers with word search and crossword puzzle worksheets, 2 coloring sheets, and my favorite, The Red Ribbon Pledge for youth:
I pledge to grow up safe, healthy and drug free by
Understanding the dangers of drug use and abuse.
Respecting myself and being drug free.
Spreading the word to family and friends about the importance of being healthy and drug free.
It's not that I'm against drug abuse awareness in schools. I'm not. But I am against abstinence-only drug education that is proven to fail. I am against a national campaign that targets elementary schools but provides no curriculum for their students. And I am very against the federal government, the DEA, and the California State PTA supporting a program that teaches our children that taking drugs is bad, yet makes no effort to explain that if their mommies or daddies take drugs, that does not mean that their mommies and daddies are bad people.
Children under the age of 11 lack the cognitive ability to understand nuance — to understand that good people can make bad decisions. Kids think in terms of black and white: people who do bad things are bad people. Where does that leave the two million children affected by America's opioid epidemic? The first grader whose father is currently in jail on drug charges? The third grader whose older sibling is in rehab? The kindergartener whose birth mommy isn't able to parent him because she's struggling with addiction.?
When you tell a child that their parent — who is a part of them – is a bad person because they do bad things, what that child comes to believe is that they too are bad.
In 2017, over 2 million children (nearly 3% of all kids in America) were directly affected by
opioid use.  According to the 2019 study by the United Hospital Fund's Children's Health:
Nearly 1.5 million were living with a parent who abused opioids.
240,000 had a parent die from opioid overdose.
10,000  had a parent in jail due to opioids.
325,000 children were removed from their homes and placed in either foster or kinship care due to opioid use and neglect.
Those statistics don't even include the children affected by other illegal drug use.
Asking elementary students to pledge a drug free life and participate in spirit week is a catalyst for absolutely nothing but stress over the last-minute search for silly socks. What we need are evidence-based programs that are age-appropriate for elementary students, trauma-informed training for educators and staff, mental health services for families, and most of all, a national pledge to reduce the stigma surrounding drug use and addiction. Maybe we could start with a spirit day worth stressing over:
Sock It To Stigma – Silly Sock Day.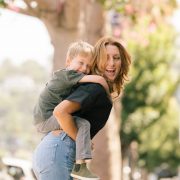 Jessica Butler
Jessica Butler is the co-founder of Raise, stepmother of two, and adoptive mother of one. Prior to Raise, she was a writer on USA's "In Plain Sight" and TNT's "The Last Ship." She and her husband, writer/producer Warren Bell, co-created the Nick at Nite series "Instant Mom," based on her life as a stepmother. She lives in Los Angeles with her husband and six-year-old son, Levon.