Justine Ungaro
Levon was born on October 24, 2014, weighing just 2 pounds, 7 ounces. He spent 28 days in the NICU and came home from the hospital weighing less than four pounds. We became Levon's legal parents the day he was born.
My husband and I are advocates of adoption and happy to share our experience of the process to inspire others, but we believe the details of Levon's birth story are his to share, if he so chooses.
Below are the questions I'm frequently asked by families who are considering adoption. If you have a specific question regarding our process, don't hesitate to ask in the comments section. Thank you for reading!
What inspired you to adopt?
I have several family members who were adopted. From a young age, I've considered adoption to be a normal way to "have a baby." As a stepmother, I knew from experience that being biologically related to my child wasn't important to me. It is important to some people, and I completely respect that. It's crucial to be honest with yourself.
How long did the process take?
It was eight months from our first meeting with the adoption center to Levon's birth day. It's important to note that adopting internationally or from foster care has a very different timeline (and price tag). We pursued independent domestic infant adoption. It took us three to four months to complete the paperwork, which included questionnaires, financial reports, medical clearances, a home study, and a profile. Then we waited. Silence for five months while the adoption center presented our profile to expectant mothers.
How are expectant mothers and potential adoptive families matched?
It depends on the adoption facilitator. In our case, we filled out a questionnaire regarding our preferences on race, ethnicity and gender. It asked if we were open to twins, preterm babies, or drug exposure in the womb. We also filled out a questionnaire about ourselves. Our agency presents expectant mothers with profiles of families that meet her criteria, based on the questionnaires. She picks the adoptive parents, not the other way around. If the adoptive parents don't feel good about the match, they can absolutely say so and wait to connect with a different expectant mother, but the relationship is initiated by the expectant mother.
Levon's birth family picked us based on our profile — a 12-page booklet featuring photos and stories about our family, our parenting philosophy, and our relationship. Social workers encourage you to be authentic in your profile. Expectant parents aren't looking for a Barbie and Ken with a perfect house. They're looking for people they connect with. Expectant parents often pick adoptive parents who share similar hobbies, spiritualities, likes and dislikes, and even physical attributes. Levon's family connected to our love of music, baseball, and dogs, and to my husband's love of Steve Martin.
Levon looks like you and your husband! How did that happen?
No one is more shocked than us. We were open to children of different races and ethnicities, so we just assumed our baby would look nothing like us. But it turns out that birth parents often choose adoptive families who look like them. That's why it's so common to meet children who look like their adoptive parents.
Does Levon know that he is adopted?
Levon is only three-and-a-half, so I don't believe he fully understands the concept, but we do talk openly about his adoption. His brothers have a mom and a stepmom, and he has a mom and a birth mom.  We share photos of his birth family with him, and he has a close relationship with his birth grandparents.
The adoption process is so overwhelming. Where do we start?
The first thing we did was reach out to our friends and acquaintances who have adopted children. We asked about their experiences with domestic infant adoption versus foster care versus international adoption. We also asked for general advice and recommendations on adoption facilitators. Our family photographer suggested AdoptHelp, and we immediately felt drawn to them. Their office is local, so we were able to meet with the staff, and we felt confident in their ability to navigate the process for us. When it comes to adoption, there is never a simple answer to a question because the laws vary state to state. We wanted someone to hold our hand throughout the process, to tell us exactly what our options were and exactly what we needed to do every step of the way.  AdoptHelp did that for us.
If you're considering adoption, AdoptHelp is a wonderful place to start.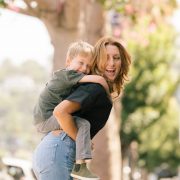 Jessica Butler
Jessica Butler is the co-founder of Raise, stepmother of two, and adoptive mother of one. Prior to Raise, she was a writer on USA's "In Plain Sight" and TNT's "The Last Ship." She and her husband, writer/producer Warren Bell, co-created the Nick at Nite series "Instant Mom," based on her life as a stepmother. She lives in Los Angeles with her husband and six-year-old son, Levon.