I am a single mother of three beautiful children and yes, they all have different fathers.
Several weeks ago, I came across a post from our contributor Grace Victoria about the judgment she faces as a mother of three children with three different fathers. It's all fun and Carrie Bradshaw until your storied love affairs produce offspring. Why is it that women with multiple lovers are considered enviable only if they remain childless? I asked Grace to share her thoughts on what it's like when your epic love story results in a child. Three times.
If you had asked me a decade ago, "Where do you see yourself ten years from now," this would not have been the answer I would have given. I am a single mother of three beautiful children and yes, they all have different fathers. I don't think it's ever anyone's intention; it just happens, and it happened to me. Nothing to it, really. Just relationships that consisted of love and resulted in a baby, then later failed. But society doesn't seem to see it that way.
It's okay to be a single mother of multiple children, but let it out that they all have different fathers and the room will either fill with silence, or worse, comments like, "That is not good," or "How sad." Rarely is there a person who simply sees a mother. A mother just trying to properly take care of her babies. Surprisingly, it tends to be members of my own generation who criticize me the most.
I certainly don't recommend having multiple children with multiple fathers for fun. Each of my kids have different schedules, attend different schools, and the relationships I have with their fathers are different. Some good, some bad. I have paranoia about dropping off the wrong kid with the wrong dad or driving to the wrong house to pick someone up. I am human, and mistakes do happen. I have texted the wrong father about the wrong child once. Luckily he was understanding and just reminded me which kid was ours.
My children are aware. I thought I would have more time before I had to explain this to them, but children are honest and expect honesty in return. It's hard to be so vulnerable with your kids. But the truth is, all of my children were born out of love.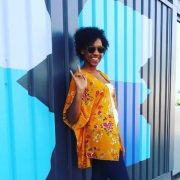 Grace Victoria
Grace Victoria, Taurus gal. Addicted to coffee, laughing, adventuring, and giving my children the best. Grace was adopted at 6 weeks old and is a single mother to three beautiful children, ages 7, 4, and 2 years. She works as an administrative assistant at a construction company and is the owner of Mulatto Baby & Co. and Grace Victoria Crafts. Originally from Whittier, she now resides in Brea. She is currently writing her first book. She has been a writer since she was 8 years old.