Shop Our Top 10 Brands For Kids.
Our boys have been rocking their favorite Rafi Nova face masks for months but we hesitated to invest in multiples, hoping the need for masks would pass. Now that it's clear we'll need them for the long-term, including at school this fall, we'll be ordering several more. Rafi Nova is a perfect fit for all three of our boys, but we know how picky kids can be, so we've rounded up a variety of brands for you to shop. Below are our favorite designs, which we found by searching popular brands and collecting recommendations from fellow mamas.
What's your favorite face mask for kids? Share with us below!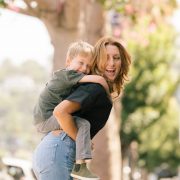 Jessica Butler
Jessica Butler is the co-founder of Raise, stepmother of two, and adoptive mother of one. Prior to Raise, she was a writer on USA's "In Plain Sight" and TNT's "The Last Ship." She and her husband, writer/producer Warren Bell, co-created the Nick at Nite series "Instant Mom," based on her life as a stepmother. She lives in Los Angeles with her husband and six-year-old son, Levon.