Meet our favorite basics brand.
Whether you're stocking up for back-to-school or building a second wardrobe for your kids post-divorce, basics brand Pair of Thieves has you covered.
The L.A.-based brand, started by Alan Stuart, Cash Warren and David Ehrenberg, offers affordable, high-quality underwear, socks, tees, and loungewear. My long-legged stepson was introduced to the brand after moving cross country for grad school. He's a long-time fan of several higher-priced competitors, but now that he's spending his own money, the search was on for an affordable alternative that offered the same quality. "High marks for Pair of Thieves underwear," he recently texted me. "I love the material, and they're a better length than other similar pairs I have."
As someone who furnished second wardrobes for both of my stepsons, I know how expensive basics can be, especially when your boys gravitate toward internet startup brands. Kids will always drag their favorite pieces back and forth between houses, but I found it essential to keep a second set of underwear, socks, and t-shirts at our home to make the boys' weekly packing as light as possible. As a parent of three, I appreciate high-quality, affordable ANYTHING, especially clothing, and the multi-packs make stocking up a breeze.
With each purchase from the Good Fits Collection, Pair Of Thieves donates a portion of the proceeds to a variety of causes and organizations. Not to mention they offer discounts to first responders, military personnel, and students on their first order.
To shop the collection, visit pairofthieves.com, target.com or pick up a pack at select Target stores.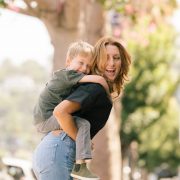 Jessica Butler
Jessica Butler is the co-founder of Raise, stepmother of two, and adoptive mother of one. Prior to Raise, she was a writer on USA's "In Plain Sight" and TNT's "The Last Ship." She and her husband, writer/producer Warren Bell, co-created the Nick at Nite series "Instant Mom," based on her life as a stepmother. She lives in Los Angeles with her husband and six-year-old son, Levon.