Ten modern designs to match your dining space.
Please tell me I'm not the only one overcome with baby fever any time I browse new baby gear. These chic black high chairs sent me down the rabbit hole of everything amazing that's available now. Have you seen those stroller/wagon hybrids?! I thought our plastic Radio Flyer with seats was fancy. How have baby products improved so much in such a short amount of time?
I'm a big fan of keeping baby gear to a minimum and investing in big pieces like high chairs and cribs. Babies don't need much, but mommy needs a pretty house that isn't overtaken by bright, primary colors.
When Levon was a baby, we purchased both a Stokke Tripp Trapp® and Steps™ high chair, and I can't recommend them enough. Both high chairs transition into toddler chairs, and we used them at our tables until Levon was four. The Tripp Trapp® and Steps™ are now available in black, and we've included them below in our latest round-up of the best high chairs.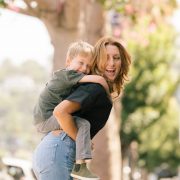 Jessica Butler
Jessica Butler is the co-founder of Raise, stepmother of two, and adoptive mother of one. Prior to Raise, she was a writer on USA's "In Plain Sight" and TNT's "The Last Ship." She and her husband, writer/producer Warren Bell, co-created the Nick at Nite series "Instant Mom," based on her life as a stepmother. She lives in Los Angeles with her husband and six-year-old son, Levon.