Think Thermos!
Feeding Levon has been a challenge since the beginning, especially when it comes to school lunch. He insists on packing familiar food from home, but refuses to eat cold sandwiches or wraps. Or lunch meat of any kind. Or raw fruits or veggies. For those of you struggling to feed your picky eaters on the go, I highly recommend investing in a Thermos. Levon takes one every. single. day. of the school year. Below is his rotation of lunches, served with canned green beans or carrots, yogurt, and golden Oreos for my little creature of habit.
We make homemade mac and cheese using elbow noodles, pasta water, butter, and American cheese. It's his #1 favorite, and reheats easily in the microwave.
The easiest lunch to prep by far is rice and refried pinto beans from our local Mexican restaurant (link). I pack them in separate Thermoses, per his request.
We make the spaghetti in advance and reheat it in the morning.
I'm shocked at how well ravioli does in a Thermos. We cook them them morning of, since they boil in just four minutes, and they stay hot well past his lunch time.
Levon loves shredded rotisserie chicken with barbeque sauce, room temperature or warm.
Orange chicken is the single most popular hot lunch option at his elementary school. This homemade version is perfect for a Thermos, or you can grab the frozen variety from Trader Joe's or any grocery store.
Whether frozen or fresh, meatballs are such an easy option, as are chicken sausages, and there are so many varieties to choose from. Just heat, chop, and pack in a Thermos for the perfect lunch.
What do you pack your little ones for school lunch? Share in the comments.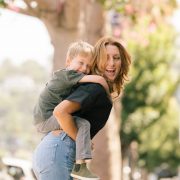 Jessica Butler
Jessica Butler is the co-founder of Raise, stepmother of two, and adoptive mother of one. Prior to Raise, she was a writer on USA's "In Plain Sight" and TNT's "The Last Ship." She and her husband, writer/producer Warren Bell, co-created the Nick at Nite series "Instant Mom," based on her life as a stepmother. She lives in Los Angeles with her husband and six-year-old son, Levon.