tativophotos/shutterstock
Is it appropriate for stepmothers to display newborn photos of their stepchildren in the home?
Raise always aims to be inclusive, and I purposely chose to say stepmothers versus stepparents in the sentence above because this debate is undeniably sexist. No one would think twice about a biological mother displaying baby photos of her children in a home she shares with a stepparent. But if a biological father does the same, in a home he shares with a stepmother, it's a very different story.
When my husband separated from his ex, he moved into their vacation home — a tiny lake cottage on the outskirts of L.A. They purchased it not long before they split, and it was largely unfurnished when he moved in. The only finished space was my stepsons' shared bedroom, and I didn't change a thing about it until they both left for college. As a stepparent, it was important to me that the boys felt I was moving into their home, not hijacking it to make it my own. Luckily for me, their mother has excellent taste and provided me with a newly renovated, beautiful blank slate to decorate. My husband and I are passionate about printing and displaying family photos — not just portraits, but candids as well — and our home soon became a gallery of photographs. My stepsons were 8 and 13 when we met and the pictures on our walls reflected that. There were no baby photos of them, nor did I think there should be.
Until my husband changed my mind.
Several years into our marriage, he moved offices and brought home a bankers box of framed photos that had been sitting on his desk. Photos of the boys as babies and toddlers. "I'd rather have these in the house than in my office," he said.
Red flag.
I'm more confident than most in my stepmom role, but there are boundaries even I don't cross, and displaying newborn photos of my stepsons was one of them. I worried that if one of the parents from school came into our home to drop off their child for a playdate, they'd see the baby photos and think I was trying to pretend my stepsons were mine. Not to mention that my husband's ex came inside on occasion. How would it make her feel? These were photos of babies I never met and had no part in raising, and I wasn't trying to pretend otherwise.
But they were my husband's babies. Frozen in time, just like he remembers them. He knows exactly where every photo was taken and has a story to go along with each one. "It's my house too," he reminded me, "and those are my memories."
I was so concerned about what others might think that I failed to consider his thoughts and feelings. I had created a home that refused to acknowledge his life before I was in it as well as the other half of my stepsons' family.
I'm not suggesting you build a gallery wall featuring old photos of your spouse with their ex, but how about snapping a new family photo at your child's next school event that includes all of their parents? If you don't feel comfortable having the photo in your family room, invite your child to keep it their room.
And don't hesitate to display photos of your stepchildren from before you were a part of their lives, if that's something your spouse would like to do. My stepsons may have two homes, but they only have one family, and it's entirely appropriate for my house to reflect that.
Our youngest son is adopted, and we display photos of his birth family without hesitation. It's time for blended families to take the same approach.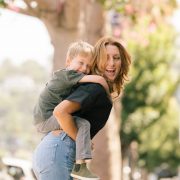 Jessica Butler
Jessica Butler is the co-founder of Raise, stepmother of two, and adoptive mother of one. Prior to Raise, she was a writer on USA's "In Plain Sight" and TNT's "The Last Ship." She and her husband, writer/producer Warren Bell, co-created the Nick at Nite series "Instant Mom," based on her life as a stepmother. She lives in Los Angeles with her husband and six-year-old son, Levon.