Planning A Visit to New York City With Kids

Our favorite places to stay, eat, and explore when traveling with kids.
In the summer of 2019, on our way to a vacation in England, we stopped in New York City both on the way to London and on the way back to Los Angeles. Not only did the detour help us avoid jet lag, but our oldest son lives in New York City, and it was the first time in years our family of five was all together.
Before Levon was born, our trips to New York revolved solely around food and concerts. Now that he's a part of our travels, we make an effort to plan daytime, child friendly activities, but we still do our best to visit all of our favorite restaurants in the city.
Below I've compiled our favorite places to stay, eat, and explore in New York City with kids. Share your recommendations with us in the comments!
WHERE TO EAT AND WHAT TO ORDER
Obviously there are thousands of restaurants to choose from, but below are our current favorites (and yes, we took Levon to all of these):
QUALITY ITALIAN
A modern take on the Italian-American steakhouse tradition. The corn crème brûlée is life changing.
NOBU FIFTY SEVEN
Japanese-Peruvian from Nobu Matsuhisa. Order a bowl of white rice for your picky kid and rock shrimp tempura and the soft shell crab roll for yourself.
EATALY
An Italian market featuring an array of cafes, counters, restaurants, and a cooking school. The il gr andissimo piatto misto (cheese and charcutteri) from La Piazza is worth the trip .
CROWN SHY
From Chef James Kent and restaurateur Jeff Katz. Rooted in European technique and drawing inspiration from around the world, including the diverse cuisine in New York City.
This gem has the best cocktail menu in the city.
JOE'S PIZZA
Authentic, New York City Pizza. Order it plain.
AKA CENTRAL PARK
We stayed at the AKA Central Park, which was recommended to us by our travel agent. Levon can be a picky eater, so we wanted a room with a kitchen to allow us to cook for him, if need be.  The AKA was all that and more. Our one bedroom suite was almost as large as our house in Los Angeles. The kitchen was fully stocked with dishes, cookware, and a full-sized fridge, the living area was large enough for us to comfortably host guests (and more importantly, store a stroller), and it had TWO massive closets.  Not to mention, it cost us a fraction of what we usually spend to stay in the city. And it's just steps from the Plaza Hotel, home to Levon's favorite donuts. We highly recommend the AKA if you're looking for kitchen access, or simply for a larger-than-normal New York hotel room.
THE CENTRAL PARK ZOO
This was our first visit to the charming Central Park Zoo, which is the perfect size for a morning or afternoon excursion. Our favorite animal sightings were the red pandas, grizzly bears, and sea lions in the courtyard. If you have little ones, be sure not to miss the Tisch Children's Zoo, offering shaded play areas, interactive sculptures, and adorable goats and sheep that you can feed out of your hand.
CENTRAL PARK
Levon's very favorite thing to do in the city was climb on the rocks in Central Park. He played on them almost every day, and it was FREE. There's also a lovely carousel in the park, but we skipped because Levon is "not a fan" of carousels (his words, not mine). The original Central Park carousel opened in 1891 and was powered by a mule and horse who walked in a hidden compartment underground below the attraction. The animals were trained to start and stop with a foot tap from the ride's operator above ground. You can learn more about the carousel's fascinating history here.
THE RAMBLE, CENTRAL PARK
The Ramble is a densely planted, woodsy area of Central Park located along the lake. The landscape design was inspired by the  Catskills and the Adirondacks in an effort to offer New Yorkers a refuge from the city. Along the way, be sure to visit Belvedere Castle, a miniature castle built on top of Vista Rock.
We did this walk the first time in the fall of 2021, on a trip without Levon, but we will absolutely do it again the next time he's with us. It's the perfect way for kids to explore the park.
EMPIRE STATE BUILDING
If your child is obsessed with skyscrapers (or windbreakers, as Levon calls them) they'll love a trip to the top of the Empire State Building. And if you despise lines like Levon's parents do, the observation deck offers a VIP Express Pass.
NYC TRANSIT MUSEUM
Housed in a decommissioned subway station, the Transit Museum features vintage subway cars to explore, a bus that little ones can "drive," and a fascinating exhibit about the construction of the city's subway system. A huge thank you to Household Mag for the recommendation!
9/11 MEMORIAL/BATTERY PARK
On our last day in the city, we visited the 9/11 Memorial, followed by Battery Park, where we waved at the Statue of Liberty and played in the fountain. We skipped the ferry, as Mommy doesn't do well on the water without loads of Dramamine.
We hadn't planned on visiting the Memorial, so as we approached, we had just a few minutes to come up with an age appropriate explanation for Levon. Since we were getting on a plane the next day, I chose to leave the plane crash out of the narrative and simply say, "There used to be two buildings here. But there was a very bad fire and the buildings fell down and a lot of people died. New York built this fountain to remember all of the people who died here.
"Did bad guys start the fire?"
"Yes."
I have no idea what made him ask that, but he did, and I answered truthfully. He understands the tragedy of fire based on his own experience, and he understands good guys versus bad, so we did our best to provide him with an explanation he could make sense of, and he accepted it very matter-of-factly. As he gets older, we will fill in the details with age-appropriate explanations.
Have you visited the site with your little ones? How did you explain it to them? We would love for you to share.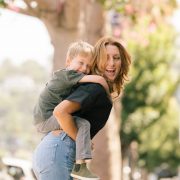 Jessica Butler
Jessica Butler is the co-founder of Raise, stepmother of two, and adoptive mother of one. Prior to Raise, she was a writer on USA's "In Plain Sight" and TNT's "The Last Ship." She and her husband, writer/producer Warren Bell, co-created the Nick at Nite series "Instant Mom," based on her life as a stepmother. She lives in Los Angeles with her husband and six-year-old son, Levon.