Earlier this month, Los Angeles extended its stay-at-home orders and we all collectively hit the wall. I couldn't face another game of Candyland, even with the help of my tribe, gin & tonic. In a desperate move, I dug out Levon's plastic bowling set, plugged in his party light, and turned our hallway into a cosmic bowling lane.
Mommy, can you bowl with me?
After a 29 hour day, I'd had just enough gin to go all in. We dimmed the lights, cranked the classic rock, and the whole family bowled a full 10 frames. It quickly became a legitimate competition between the four adults and turned out to be as much fun for us as it was for Levon. I highly recommend it for both kids and the 21-and-over set. Shop the essentials below.
What are you doing to stay entertained during quarantine? Leave us a comment!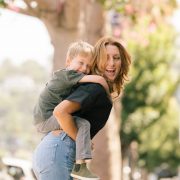 Jessica Butler
Jessica Butler is the co-founder of Raise, stepmother of two, and adoptive mother of one. Prior to Raise, she was a writer on USA's "In Plain Sight" and TNT's "The Last Ship." She and her husband, writer/producer Warren Bell, co-created the Nick at Nite series "Instant Mom," based on her life as a stepmother. She lives in Los Angeles with her husband and six-year-old son, Levon.