ViChizh/Shutterstock
We're all making sacrifices right now, both big and small, but self-care doesn't have to be one of them. This quarantine is a marathon, and we mamas will never make it to the end running on empty. Below is a roundup of our favorite self-care products, available at pharmacies and Target during your next toilet paper run. Because hidin in the bathroom and scrolling Instagram does NOT count as self-care… unless you're wearing a face mask.
Share your favorite drug store self-care products in the comments below!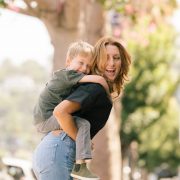 Jessica Butler
Jessica Butler is the co-founder of Raise, stepmother of two, and adoptive mother of one. Prior to Raise, she was a writer on USA's "In Plain Sight" and TNT's "The Last Ship." She and her husband, writer/producer Warren Bell, co-created the Nick at Nite series "Instant Mom," based on her life as a stepmother. She lives in Los Angeles with her husband and six-year-old son, Levon.