Meet GLEAM, the essential app for busy parents.
Back-to-school means back to birthday parties, and there's nothing that stresses me more than trying to find gifts for classmates I've never met. Levon has very eccentric taste for his age, so I can't base what to buy off of his interests, and he rarely knows his friends' last names, let alone their favorite toys.
I recently discovered the gift-giving app GLEAM and was so excited that I reached out to its founder, Sadie Higgins, to ask if I could share her story on Raise. Like many moms, she founded her company out of necessity. "I forgot my godson's birthday. Between the pandemic and the chaos of my three children being at home, it just slipped my mind. I ended up ordering something last minute from Amazon, and it felt so impersonal."
The flub inspired her to found Gleam. The app sends gift suggestions based on the recipient's age and interests along with reminders ahead of birthdays and anniversaries so you never miss a date. Plus, Gleam only recommends products from small and value-based businesses and sustainable and environmentally-friendly companies.
I've already found so many gifts for Levon's friends, along with things that he would love to receive. And the app is perfect for blended families, who suddenly find themselves with twice as many people to buy for, many of whom they don't know that well. As a stepmom, my boys had double the birthday parties and double the grandparents, which meant I needed 100x as many gift ideas. I'm so thankful to now have found an app that suggests unique and affordable products for my kids and their friends. Because the only thing worse than showing up to a party in the same dress is showing up with the same gift.
You can download Gleam on the app store or Google play here.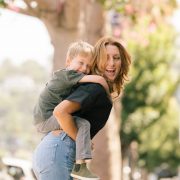 Jessica Butler
Jessica Butler is the co-founder of Raise, stepmother of two, and adoptive mother of one. Prior to Raise, she was a writer on USA's "In Plain Sight" and TNT's "The Last Ship." She and her husband, writer/producer Warren Bell, co-created the Nick at Nite series "Instant Mom," based on her life as a stepmother. She lives in Los Angeles with her husband and six-year-old son, Levon.