This is what should be on your baby registry.
My sister has worked as a full-time nanny for over 10 years. She's tried every stroller on the market, every diaper pail, every bottle brand. As someone who's worked for both Hollywood actors and young freelancers, she's sampled the high-end and low-end of every baby product on the market. Below, she shares her favorites for new and expecting parents.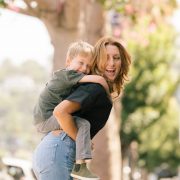 Jessica Butler
Jessica Butler is the co-founder of Raise, stepmother of two, and adoptive mother of one. Prior to Raise, she was a writer on USA's "In Plain Sight" and TNT's "The Last Ship." She and her husband, writer/producer Warren Bell, co-created the Nick at Nite series "Instant Mom," based on her life as a stepmother. She lives in Los Angeles with her husband and six-year-old son, Levon.