"We want to be honest with him and we're not sure how. Both of his biological parents are addicts."
Yesterday's post resulted in a flood of messages from adoptive mothers seeking advice on how to explain adoption to their children. More specifically, many moms wanted to know how to approach the topic of addiction within their child's birth family. "We want to be honest with him and we're not sure how. Both of his biological parents are addicts."
It's difficult for experienced adoptive mothers to share advice on this topic without exposing the details of their children's personal stories, but sharing is vital for us to grow as a community, and it is the only way we can equip fellow mamas with the words they will inevitably need.
If you are a mom who has advice on how to talk to you child about a parent's addiction, I welcome you to PM, DM, or email me to share your story. After collecting the comments, I will post the advice we receive (omitting names and identifying details), along with tips from professionals, in hopes of helping all of us navigate this difficult challenge.
Addiction affects more than just adoptive families. Every 15 minutes, a child with prenatal drug exposure is born in America. In 2017, 36% of children who entered foster care were removed from their homes due to parental drug use. If you are a bio mom or dad who has experience talking to your kids about a family member's addiction, please don't hesitate to reach out to us.
We deeply appreciate everyone's willingness to share.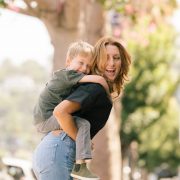 Jessica Butler
Jessica Butler is the co-founder of Raise, stepmother of two, and adoptive mother of one. Prior to Raise, she was a writer on USA's "In Plain Sight" and TNT's "The Last Ship." She and her husband, writer/producer Warren Bell, co-created the Nick at Nite series "Instant Mom," based on her life as a stepmother. She lives in Los Angeles with her husband and six-year-old son, Levon.