Justine Ungaro
Our Five Favorite Cookbooks for New Vegetarians.
We've always told our sons that we support them dating a person of any gender or religion, as long as they are not a Dodgers fan or vegetarian. Perhaps that's why our oldest waited until the night we met his girlfriend to reveal that she doesn't eat meat. The worst part is that we adore her, so we're now on a mission to discover new ways to celebrate holidays that include more than just platters of smoked meats.
I reached out to our co-founder Erin, whose family of four recently went vegetarian, to ask for a list of her favorite cookbooks. As a foodie, I knew her picks wouldn't disappoint. Below are her recommendations for the best cookbooks for new and long-time vegetarians.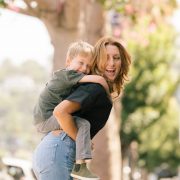 Jessica Butler
Jessica Butler is the co-founder of Raise, stepmother of two, and adoptive mother of one. Prior to Raise, she was a writer on USA's "In Plain Sight" and TNT's "The Last Ship." She and her husband, writer/producer Warren Bell, co-created the Nick at Nite series "Instant Mom," based on her life as a stepmother. She lives in Los Angeles with her husband and six-year-old son, Levon.