Natalia Duryagina/Shutterstock
Marriage and family therapist Tara Fass on the difficulties blended families face, the importance of talking to your children about the pandemic, and how her new book, "When We Stayed Home," can help.

As the U.S. continues to set single-day records for Covid cases and hospitalizations, divorced families face steeper challenges than their traditional cohorts. Creating a pod is difficult under the best of circumstances, but for families with two households, agreeing on the rules of exposure can prove impossible. "It's either going to bring out the best in people or the worst," explains Tara Fass, a licensed marriage and family therapist in Los Angeles. "Aside from the typical logistics, you have to consider the inclusion of new partners. How many households are you really bringing into the pod? And you have to consider what type of work they do."
Fass, who specializes in co-parenting counseling, is the co-author of the new children's book When We Stayed Home, a story about little boy and his dog as they navigate their life at home during the pandemic.
During the early days of the outbreak, I made a conscious decision to shield Levon from the realities of the virus. Thinking it would only last a few weeks, I explained that a lot of people had a very bad cold and that we all needed to stay home until the doctors found the right medicine to help everyone get better. Levon went weeks before seeing anyone in a mask, due to the fact that we kept him home and that masks were not yet required in outdoor spaces.
My fantasy bubble burst, and I eventually found myself having to explain to my five-year-old that he was never going back to his TK classroom and may never set foot inside a kindergarten classroom either. The instinct to shield our children from harsh realities is noble, but not necessarily healthy. When something unsettling happens, children look to the adults in their life to make sense of it. As Fass explains, "A little bit of escapism goes a long way, just like talking about it a little goes a long way. We have to make room for it all. Children want to feel your steady presence, in your word, in your body, in your gaze. They need to understand that yes, this is challenging, and I need your cooperation, but with your cooperation, we're going to make the most of this difficult situation."
The book frames those who stay home as super-helpers, helping their friends, family, and community by washing their hands, wearing masks, and having at-home adventures. "The positive reframe is very powerful. A safe way to talk about heavy things that doesn't make them so heavy that everybody gives up."
For children with two homes, the rules of the pandemic can be even more confusing. Why do you make me wear a mask but Daddy doesn't? Why does Mommy let us eat in restaurants and you don't? Giving these children the opportunity to unpack their feelings about what's happening is essential, and there's no better way than to provide a mirror of their experience, which is exactly what Why We Stayed Home achieves. A mirror is a powerful tool for both self-expression and hope. As Fass adds, "We're working, looking to when we'll be able to do all the things we miss together. We have to just keep going. Keep going. Keep going."
When We Stayed Home was inspired by the 5-year-old nephew of Fass's co-author, Judith A. Proffer and is published by Huqua Press. You can purchase the book on Amazon.com.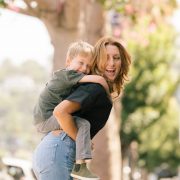 Jessica Butler
Jessica Butler is the co-founder of Raise, stepmother of two, and adoptive mother of one. Prior to Raise, she was a writer on USA's "In Plain Sight" and TNT's "The Last Ship." She and her husband, writer/producer Warren Bell, co-created the Nick at Nite series "Instant Mom," based on her life as a stepmother. She lives in Los Angeles with her husband and six-year-old son, Levon.