The best advice I received on how to build a relationship with my future stepsons.
I'm a total research junkie, so when I started dating a man with kids, the first thing I did was read everything I could find on the subject. This was long before daily blogs or social feeds, back when you had to turn to actual books. One of the many books I read offered the following advice that I truly believe laid the foundation for the relationship I now have with my stepsons.
Treat your time with their children as a date. Put effort into planning it, the same way you would for a date with your significant other.
It's such a simple concept that makes such a big difference. Warren and I had plenty of dates without the kids, but we also planned special activities to do with them. The first time I met the boys, the four of us went to a Angels game together. The second time was much more low key – we played board games and ordered pizza. Most "dates" were just afternoons spent at home, watching their favorite cartoons and playing whatever crazy games the two of them had invented. Indulging them. Spending time with them, not just with their dad. It was important to me to show them that it was my job fit into their already established family, not their job to fit into my new relationship with their father.
Our time together also showed them that I was not there to replace their mother. I didn't come over to help them brush their teeth or do their homework (though that came later). I came over to get to know them. To spend intentional time with them. To form a new family together, but never to try and replace or replicate the family they had with their mom and dad.
I highly recommend dating your significant other's kids in the beginning of your new relationship, and I would love to hear your advice on the subject. Share in the comments below.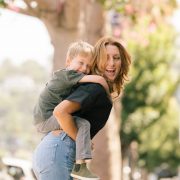 Jessica Butler
Jessica Butler is the co-founder of Raise, stepmother of two, and adoptive mother of one. Prior to Raise, she was a writer on USA's "In Plain Sight" and TNT's "The Last Ship." She and her husband, writer/producer Warren Bell, co-created the Nick at Nite series "Instant Mom," based on her life as a stepmother. She lives in Los Angeles with her husband and six-year-old son, Levon.