Levon has ultra-sensitive skin, prone to rashes and eczema. Below are the products we rely on to protect his delicate skin.
CETAPHIL PRO ECZEMA SOOTHING MOISTURIZER
Levon used to suffer from patches of eczema on his chest, arms, and legs. And during our stays in Arizona, his rash would became worse. His pediatrician recommended Cetaphil Pro Eczema Soothing Moisturizer and after just two weeks, his eczema vanished. We apply it after every bath and make sure to pack it when we travel.
AQUAPHOR BABY WASH & SHAMPOO
We've found Aquaphor Baby Wash & Shampoo to be the gentlest on Levon's skin, and we even use it as bubble bath.
AQUAPHOR HEALING OINTMENT
Levon often develops chapped skin on and around his lips. Aquaphor Healing Ointment is the only product that soothes the dryness. We apply it every evening after he brushes his teeth.
TIDE FREE AND GENTLE
Any other laundry detergent irritates Levon's skin.  We use Tide Free for our whole family.
Levon has never had a reaction to dryer sheets, but I've been thinking of trying wool dryer balls with essential oils as an alternative. Have any of you tried them? Tell me what you think!
PAMPERS SENSITIVE DIAPERS AND WIPES
We exclusively used Pampers diapers and wipes on Levon's tush. Despite his sensitive skin, he NEVER suffered from diaper rash. You can read more about my love of Pampers here.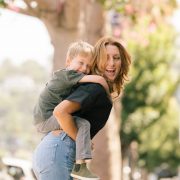 Jessica Butler
Jessica Butler is the co-founder of Raise, stepmother of two, and adoptive mother of one. Prior to Raise, she was a writer on USA's "In Plain Sight" and TNT's "The Last Ship." She and her husband, writer/producer Warren Bell, co-created the Nick at Nite series "Instant Mom," based on her life as a stepmother. She lives in Los Angeles with her husband and six-year-old son, Levon.