The best baby gear, skincare recommendations, NICU survival tips, & more.
In honor of Prematurity Awareness Month, we're sharing our top posts on parenting preemies. Co-founder Jessica Butler is mom to seven-year-old Levon, who was born 10 weeks premature, weighing just 2 pounds, 7 oz. He spent 28 days in the NICU and came home from the hospital weighing less than four pounds. We are passionate about building a community for preemie parents and invite you to share your journey with us. Post your preemie story with the hashtag #raiseapreemie to be featured on our feed.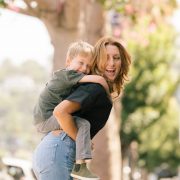 Jessica Butler
Jessica Butler is the co-founder of Raise, stepmother of two, and adoptive mother of one. Prior to Raise, she was a writer on USA's "In Plain Sight" and TNT's "The Last Ship." She and her husband, writer/producer Warren Bell, co-created the Nick at Nite series "Instant Mom," based on her life as a stepmother. She lives in Los Angeles with her husband and six-year-old son, Levon.