Because we're all homeschoolers now.
It's time to accept that I will be responsible for my child's education this fall. While I'm confident I can master a kindergarten curriculum, I'm also completely overwhelmed at where to start. Should I embrace distance learning, or is the screen time aspect harmful to a kindergartener? Maybe I should homeschool him in the traditional sense, with less reliance on screens. Or maybe I should embrace unschooling and just teach him how to garden and fish. We live on a lake after all. How much does a kid really learn in kindergarten anyway? (This used to be a rhetorical question. Now it is one I must actually answer.)
There is SO MUCH to decide before school starts in a month, but the one thing I'm sure of is that Levon needs to continue learning his letters and numbers. While he loves to learn, he hates worksheets. Like most kids his age, he needs hands on, captivating activities in order to stay engaged. Below are the five ways he currently loves learning his letters and numbers.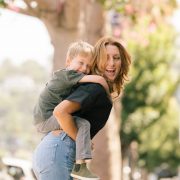 Jessica Butler
Jessica Butler is the co-founder of Raise, stepmother of two, and adoptive mother of one. Prior to Raise, she was a writer on USA's "In Plain Sight" and TNT's "The Last Ship." She and her husband, writer/producer Warren Bell, co-created the Nick at Nite series "Instant Mom," based on her life as a stepmother. She lives in Los Angeles with her husband and six-year-old son, Levon.