B-D-S Piotr Marcinski/Shutterstock
Tips from celebrity hair stylist Roxie Baker. Plus, her favorite dry shampoos for busy moms.
My first career as a TV writer connected me to two of the most significant people in my life (in no particular order): my husband and my hair stylist. Roxie Baker has worked as a stylist on shows including The Nanny, Titus, Wizards of Waverly Place, and most currently, Last Man Standing.
When I moved to Hollywood in my early 20s, the first piece of advice she gave me was to stop washing my hair every day. I switched to every other day out of sheer vanity. I wanted healthy hair. But once Levon was born, making my blowout last became a necessity. Moms have so little free time and none of us wants to spend it washing our hair. Repeat after me: Showering does not count as self-care.
During my recent hair appointment, I gathered all of Baker's advice to share on how to stop washing your hair every day.
If you're worried that your hair will be too oily if you don't wash it every day, don't be. "The more you wash it, the more oil your body produces," she explains. "It might take a few weeks, but your hair will eventually stop being oily."
USE DRY SHAMPOO BETWEEN WASHES
DON'T CONDITION YOUR ROOTS
"If your hair tends to be oily, don't condition your roots," she says. "Only condition your hair from the ears down."
As someone with slightly oily hair, this was a game changer for me. I never condition my roots and it definitely helps extend my blowouts.
Your third day hair may not look great when it's down, but you can usually stretch it one more day with a ponytail or headband. Or both. Headbands are so great at covering my slightly oily roots, and a pony tail saves me when my hair feels a little bit dirty.
What are your secrets for extending your blowout? Share with us below!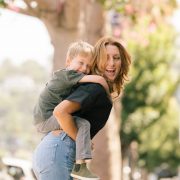 Jessica Butler
Jessica Butler is the co-founder of Raise, stepmother of two, and adoptive mother of one. Prior to Raise, she was a writer on USA's "In Plain Sight" and TNT's "The Last Ship." She and her husband, writer/producer Warren Bell, co-created the Nick at Nite series "Instant Mom," based on her life as a stepmother. She lives in Los Angeles with her husband and six-year-old son, Levon.