Q & A with author Cyana Riley.
Cyana Riley is the author of Not So Different, a children's book celebrating mixed race families and diversity. Riley spoke with Raise about the inspiration behind her book, her own non-traditional family, and the importance of representation in children's literature.
On Her Non-Traditional Family
I'm Black, my husband is white, we have two biracial children, and I have two older stepdaughters, who are white.
On The Inspiration Behind Her Book
Before I was married or had kids, I was a preschool teacher. I often needed to fill time during our transitions between activities, and one day I made up a story about a firetruck. Months later, the kids were still asking, "Can you tell us the firetruck story again?!" They constantly wanted to hear a silly little story I had made up on the fly, and that got me thinking that maybe I was on to something. Maybe I should write books.
On a more personal note, I wanted to write a story for my son that had a lead character who was Black. I wanted him to see himself in a book. When I was growing up, there were so few children's books with lead characters of color. I read a lot of Berenstain Bears. That's who I identified with. A bear was as close as I could get! And books with black characters written by Black authors — those were so scarce.
On The Importance Of Representation In Books
We're a book household. Children learn so much from books. Representation on TV is important too, but books are tangible, something kids can hold and learn from. They need to see themselves in the pages.
Of course diverse classrooms need diverse books, but so do all-white classrooms. If your classroom is all-white, you need diverse books the most!
On Raising Non-Colorblind Kids
I don't think kids are colorblind, per say. They see color, but they don't attach stereotypes or preconceived notions to people who look different from them. That comes later, from their exposure (or lack of) to people who don't look like them. If they only see Black people in certain roles, and they never see a Black doctor or Black teacher, a child may come to believe in cultural stereotypes.
All children need to see characters of color in strong positions, just like boys need to read books that show girls in strong positions. Of course diverse classrooms need diverse books, but so do all-white classrooms. If your classroom is all-white, you need diverse books the most!
On Teaching Children About Mixed-Race Families
Introducing the concept is important so that children know what other families look like. I don't want my child to hear comments from other kids who have never seen a family like his. It's such an easy conversation to have. Some families match, some don't. We explain differences in gender, religion, sexuality, and other non-traditional family structures. Why are we leaving mixed-race families out of the discussion?
On The Importance Of Anti-Racist Language
It's not just about the conversations we have with our children, it's also about the ones we have around them. They listen. They learn from what we model. If you refer to Black people as "those people," that's going to affect how your children perceive them. The language you use matters. My son used to say I was brown and that his dad was pink, and I let it go at first because he was so young. But eventually we explained that yes, Mommy is brown, but some people with brown skin are called Black. We explained that daddy is white. It's important he understands the terms now so that as he grows, he can understand what's going on in the world.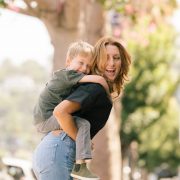 Jessica Butler
Jessica Butler is the co-founder of Raise, stepmother of two, and adoptive mother of one. Prior to Raise, she was a writer on USA's "In Plain Sight" and TNT's "The Last Ship." She and her husband, writer/producer Warren Bell, co-created the Nick at Nite series "Instant Mom," based on her life as a stepmother. She lives in Los Angeles with her husband and six-year-old son, Levon.