Shop our 15 favorites.
Levon was born before backpack-diaper bags were a thing, so my husband and I used this MZ Wallace washable backpack to tote his bottles and diapers around town. The only downside was that it didn't feature the interior bottle holders and pockets that are so helpful in traditional diaper bags. Luckily, designers caught on to the backpack trend and now the options are endless. I'm a huge believer in having just one diaper bag that both parents can carry — something stylish, functional, and gender-neutral. Below I've rounded up my favorites, all approved by my husband.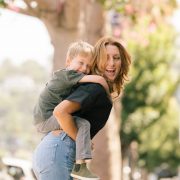 Jessica Butler
Jessica Butler is the co-founder of Raise, stepmother of two, and adoptive mother of one. Prior to Raise, she was a writer on USA's "In Plain Sight" and TNT's "The Last Ship." She and her husband, writer/producer Warren Bell, co-created the Nick at Nite series "Instant Mom," based on her life as a stepmother. She lives in Los Angeles with her husband and six-year-old son, Levon.