Our top 10 favorites, currently on the market.
One of our most popular posts ever is our high chair roundup of 2019, so we decided to update it with our current favorites, available now. Below are 10 attractive high chairs for fellow design-loving parents. And be sure to revisit our original roundup; all 12 are still available!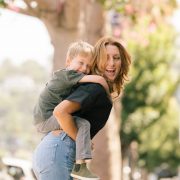 Jessica Butler
Jessica Butler is the co-founder of Raise, stepmother of two, and adoptive mother of one. Prior to Raise, she was a writer on USA's "In Plain Sight" and TNT's "The Last Ship." She and her husband, writer/producer Warren Bell, co-created the Nick at Nite series "Instant Mom," based on her life as a stepmother. She lives in Los Angeles with her husband and six-year-old son, Levon.