Shop our favorites sets that don't fall down!
Levon is true-to-size when it comes to shirts, but his waist and butt are tiny, so most pajama bottoms are way too big for him. I love matching jammie sets and plan to keep buying them until he puts up a fight, so I'm always on the lookout for brands that actually fit. Plus, Levon grows slowly and usually wears his pajamas for at least a year before passing them along to friends. I look for high quality, soft fabrics that wash well and don't fade over time.
How many of you love hand-me-downs?! Erin and I are the queens of passing clothes around. Her boys exclusively wore Levon's clothes until they both outgrew him, and I'm constantly shopping Erin's closet on Instagram. Are you even really friends if you don't share clothing?
Since some of our most popular posts are those with clothes for skinny boys, I thought I'd share our current favorite PJ sets for bedtime and lazy Saturday mornings.
Share your favorite brands in the comments!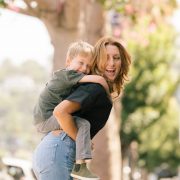 Jessica Butler
Jessica Butler is the co-founder of Raise, stepmother of two, and adoptive mother of one. Prior to Raise, she was a writer on USA's "In Plain Sight" and TNT's "The Last Ship." She and her husband, writer/producer Warren Bell, co-created the Nick at Nite series "Instant Mom," based on her life as a stepmother. She lives in Los Angeles with her husband and six-year-old son, Levon.