Sam Wordley/Shutterstock
Family law attorney Penelope Hefner shares the effects of Covid on both international and domestic adoptions.
Adoptions move slowly under the best of circumstances. My son's adoption in 2014 took 16 months from our first meeting with our attorney to his adoption finalization. The pandemic has impacted nearly every aspect of the process, from homestudies to court proceedings to who is allowed in the hospital room for the baby's birth. Penelope Hefner, family law attorney at Sodoma Law in North Carolina, shares what changes you can expect if you're currently pursuing adoption and why you shouldn't delay your plans.
It's no surprise that with international adoption, the biggest challenges are travel related. Even in non-pandemic times, travel requirements vary between countries. Some require adoptive parents to stay in the child's birth country for up to two months. "Couple that with Covid testing requirements and the possibility of testing positive and being forced to stay even longer than planned," explains Hefner, "and it's very overwhelming."
A delay in foreign court proceedings is also a possibility. "All governments are working with a reduced staff and have to prioritize," says Hefner. "It's the same in the U.S. system."
In the midst of Covid-19, U.S. courts still view adoptions as essential, "but not necessarily as emergencies," says Hefner. "If they've got the staff to do them, they're still doing them, but we're seeing longer wait times than normal." Court systems around the country are now finalizing adoptions via Zoom. For some, the platform now bookends the process.
Homestudies, which traditionally involve multiple in-person visits with social workers to conduct interviews and home inspections, are also happening via Zoom. And the paperwork required – fingerprinting, medical forms, notarized documents and the like – are facing delays due to office closures and reduced staff in every industry.
Hospitals are no longer the hotspots they once were, but policies remain changed for all patients, including birth mothers and adoptive parents. In Charlotte, North Carolina, where Hefner practices, hospitals allow mothers who are giving birth "a support person" to be in the room with them. "If you're the birth mom, you may not or may not want that to be one of the adoptive parents." The hospital experience belongs to the birth mother. It is the role of adoptive parents to support her wishes during the birth as well as throughout her hospital stay.
Between the restrictions, delays, and economic uncertainties resulting from the pandemic, many parents have put their adoption plans on hold, but Hefner encourages families to move forward. "Don't wait, because we don't know how long this is going to be around. Yes, it will take a little bit longer, but delaying the joy of parenthood is a waste of time. Start the process. Use the extra time to be as prepared as possible." Dive into adoption education. Learn from the voices of birth mothers and adoptees who bravely and selflessly share their stories. Take this time to enjoy your family just as it is now. Because it's all about to change.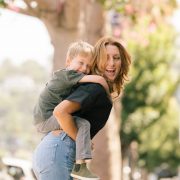 Jessica Butler
Jessica Butler is the co-founder of Raise, stepmother of two, and adoptive mother of one. Prior to Raise, she was a writer on USA's "In Plain Sight" and TNT's "The Last Ship." She and her husband, writer/producer Warren Bell, co-created the Nick at Nite series "Instant Mom," based on her life as a stepmother. She lives in Los Angeles with her husband and six-year-old son, Levon.