Plus, a list of our favorite fall events in L.A.
I've written before about how embracing lesser-celebrated holidays is key to building traditions as a blended family. I discourage parents from getting hung up on the actual dates, though I will admit it's hard to recreate Christmas morning the day before or after. Halloween is my favorite holiday, both as a stepmom and primary parent, because it offers an entire season of celebration. You can find local events, often starting in September, that allow you to celebrate even if you don't have your kids on Halloween night. And many events encourage wearing costumes, which allows both sets of parents to participate in the dress-up aspect. You can also plan a Halloween party the weekend before without it being awkward. Yay for flexible holidays! Below is a list of fall events we hit up every year here in L.A.
Share your favorites in your city below!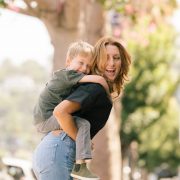 Jessica Butler
Jessica Butler is the co-founder of Raise, stepmother of two, and adoptive mother of one. Prior to Raise, she was a writer on USA's "In Plain Sight" and TNT's "The Last Ship." She and her husband, writer/producer Warren Bell, co-created the Nick at Nite series "Instant Mom," based on her life as a stepmother. She lives in Los Angeles with her husband and six-year-old son, Levon.