Everything we love to do, eat, and see in the city.
Atlanta has become one of my favorites cities. My bestie and former writing partner Jill Blankenship is currently shooting a series there, and I'm using it as an excuse to visit as often as possible. I absolutely love the city's museums, parks, and restaurants, and I highly recommend it as a destination for a families. With Jill's help, I've put together a list of our favorite spots, plus two museums I'm hoping to visit on our next trip!
Our family has stayed at The Flats at Ponce City Market and Loews, and we love them both. The Flats have a washer and dryer in each unit, which is life changing when traveling with kids.
Confession: I don't usually enjoy museums, but the ones in Atlanta are incredible. The Georgia Aquarium is absolutely worth the hype, as well as a leader in research and conservation. Just across the lawn is the National Center for Civil And Human Rights, which we hope to visit on our next trip. (Its operating hours were reduced due to Covid during our stay.) After a day at the museums, let the kids run wild in beautiful Centennial Olympic Park.
The Fernbank Museum of Natural History is a must for the dino obsessed and offers 75 acres of wooded trails and play structures to explore, rain or shine. (We did it in the rain!)
Pack your scooters and explore the trails and parks along the Atlanta Beltline, making sure to stop at the Historic Fourth Skatepark. The Beltline is my favorite way to explore the city and discover restaurants.
Pull out the scooters and spend an afternoon exploring and shopping in Decatur Square. When you get hungry, order one of everything from The Iberian Pig.
And don't leave town without visiting The Optimist. Start with the corn milk hushpuppies, "beignet style," and go from there..
On our bucket list (and highly recommended by Jill): BoccaLupo and Kimball House.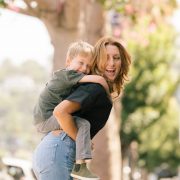 Jessica Butler
Jessica Butler is the co-founder of Raise, stepmother of two, and adoptive mother of one. Prior to Raise, she was a writer on USA's "In Plain Sight" and TNT's "The Last Ship." She and her husband, writer/producer Warren Bell, co-created the Nick at Nite series "Instant Mom," based on her life as a stepmother. She lives in Los Angeles with her husband and six-year-old son, Levon.